Mold is an annoying substance to deal with in your home or building because it can grow almost anywhere and cause a range of issues.  Mold spores are a natural presence in the air and they are ready to form into mold growth when they find a suitable environment that contains a moisture source and food source.  Once mold growth starts, it will keep spreading and causing damage while also increasing the risk of certain health effects.
Mold Remediation Services in Goshen, Indiana
ServiceMaster by Monroe Restoration provides mold remediation services to remove mold growth and restore the damage for homes and businesses in Goshen, IN.  We will test your home or building to locate all hidden mold growth and remove it effectively with our advanced methods and equipment.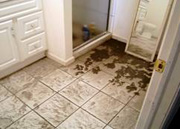 Water or moisture is the main trigger of mold growth and most mold colonies use cellulose, an organic material found in drywall and wood, as its food source.  Mold literally eats away at the surfaces it grows on, leading to discoloration and even permanent damage if no action is taken.  It spreads by dispersing its spores into the air which latch onto new surfaces and quickly form into mold colonies.  The dispersal of mold spores is what triggers allergic reactions as exposure to the spores can lead to itchy eyes and throat, runny nose, skin irritation, and respiratory infections in extreme cases.
Mold Removal from ServiceMaster by Monroe Restoration
Reacting quickly to the first sight of mold growth is the best way to limit its spread and effects.  Our technicians at ServiceMaster by Monroe Restoration are prepared to safely remove all mold growth from your home or business and ensure that the damage has been repaired.  We have full testing capabilities to uncover all hidden mold growth and we use advanced equipment to fully remove every trace of mold.  The mold remediation services we provide include these general steps:
Complete testing and evaluation to find all mold growth
Report of our evaluation to your insurance company
Isolation of the mold to protect unaffected areas
Formation of a mold removal plan based on our evaluation
Thorough mold remediation using effective equipment and cleaning products
Mold has the potential to cause widespread damage and serious health issues so it should never be ignored.  Make sure you call ServiceMaster by Monroe Restoration right away if you discover mold in your home or office in Goshen, IN.  We are available 24 hours a day at (574) 231-7179 for more about our mold remediation services.
---
Recent Reviews
February 26, 2020
Sherry Lynn Conley
Grabill, IN
December 19, 2019
David and Terri Lynn Mann
New Buffalo, MI
Your whole team has made us feel comfortable about the situation we are in! We were very upset in the beginnning because people would be going through our belongings! But you all made us feel so much better and comfortable with the process! The cleaning also was so great! You have also been getting it done in a reasonable amount of time! We appreciate that! Thank you so very much!
---