Of all the surface types in your home, tile and grout surfaces tend to be the toughest and have the highest resistance to moisture.  This is one of the reasons why tile and grout is found in nearly every kitchen and bathroom.  The other main reason is because tiles come in a wide variety of styles and colors that allow homeowners to be creative with their interior décor.  However, as the tile finish wears off, dirt and moisture can stick to these surfaces and cause stains or mildew growth that lead to discoloration of the tile.
Professional Tile and Grout Cleaning Services from ServiceMaster by Monroe Restoration
ServiceMaster by Monroe Restoration provides professional tile and grout cleaning services to remove stains and debris from tile surfaces in Goshen, IN.  We will safely clean your tile and grout surfaces with our advanced equipment to eliminate stains, dirt buildup, and mildew.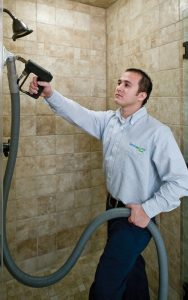 The kitchen and bathroom in a home are used multiple times a day which puts a lot of stress on tile and grout surfaces.  These surfaces are very resilient to moisture and repeated use, but as the finish wears off, they become more susceptible to debris and moisture buildup.  Dirt buildup causes general discoloration of the tile surfaces and the moisture can get trapped in the grout lines and cause mold or mildew to develop.  The dirt and mold can not only shorten the life of the surface, but also cause the color of the tiles to become dull which affects the appearance of the kitchen or bathroom.  We are trained and equipped to fully remove built up debris and stains from any type of tile and grout surface.  Our advanced high pressure water extraction cleaning method will deep clean your tile and grout and even revitalize its original color.
Our Technicians Will Complete the Following Steps With Our Tile and Grout Cleaning Services:
Complete inspection of the tile and grout surfaces
Pre-treatment to remove spots and stains
Tile and grout cleaning with high pressure water extraction method
Corner and baseboard cleaning
Thorough drying of the tile and grout surfaces.
Do not let your tile and grout surfaces in your kitchen or bathroom become dirty, stained, or faded.  You must have these surfaces professionally cleaned to remove stains and mildew and restore the original color of the tile.  If you need tile and grout cleaning services in Goshen, IN, call ServiceMaster by Monroe Restoration at (574) 231-7179 to schedule an appointment.
---
Recent Reviews
February 26, 2020
Sherry Lynn Conley
Grabill, IN
December 19, 2019
David and Terri Lynn Mann
New Buffalo, MI
Your whole team has made us feel comfortable about the situation we are in! We were very upset in the beginnning because people would be going through our belongings! But you all made us feel so much better and comfortable with the process! The cleaning also was so great! You have also been getting it done in a reasonable amount of time! We appreciate that! Thank you so very much!
---