Reliable assistance and professional carpet cleaning and maintenance can be handled by RestorationMaster, Elkhart, Indiana.  Keeping your carpets looking like new requires regularly scheduled carpet cleaning. RestorationMaster provides expert carpet cleaning service that prolongs the life of your carpets and floors and helps create a healthy indoor environment.
Professional Carpet Cleaning, Elkhart, Indiana
RestorationMaster, Elkhart, Indiana can typically schedule a carpet cleaning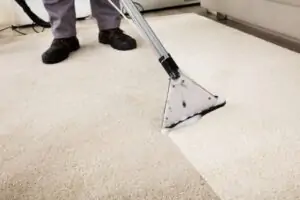 appointment within a few days of your call.  RestorationMaster is efficient in their cleaning methods to make sure your carpet is returned to its original condition. Carpets will begin to breakdown from particles being ground into the fibers over time.
Commercial Carpet Cleaning in Elkhart, Indiana Area
RestorationMaster, Elkhart, Indiana uses the hot water extraction method.  They pre-treat your carpets, rinse and then extract it back into their truck-mounted system.  They also have a portable unit that can be used in situations where the truck-mount isn't a viable option.  RestorationMaster, Elkhart, Indiana can offer you free estimates on your carpet cleaning needs. Their expertly trained carpet cleaners are well versed in all carpeting brands, and know how best to remove dirt and deep-down soil, especially in high traffic areas.
Choose commercial carpet cleaning services from RestorationMaster, Elkhart Indiana, by calling us at (574) 891-8076, and discover true "Peace of Mind."
Related Carpet Cleaning Services:
Professional Carpet Cleaning Companies in Michigan City, Indiana
Professional Carpet Cleaning Services in Goshen, Indiana
Carpet Cleaning Services in Hammond, Indiana
Carpet Cleaning Company in Valparaiso, Indiana
Commercial Carpet Cleaning Experts in South Bend, Indiana