Mold can be very dangerous to remove on your own, this is why calling ServiceMaster by Monroe Restoration, Elkhart IN, is the smart choice.  Since their employees go through ongoing training, they are current on the latest techniques on mold removal, which in turn helps them determine how to restore your property.  ServiceMaster by Monroe Restoration can maintain their focus to make sure the dangerous mold is removed safely from your home.
Mold Removal
Mold is a type of fungi that can grow on wood, carpets, paper, insulation and many other organic substances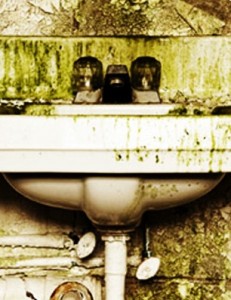 with a combination of suitable temperatures, moisture, and oxygen.  By following IICRC recommended procedures, this team of experts can control the spreading and growth of such a dangerous substance.
Mold mildew remediation is important because untreated mold can pose a variety of health risks, including asthma and allergic reactions, and it can significantly decrease property resale value.  The ServiceMaster by Monroe Restoration staff can help you handle mold problems by identifying sources of mold, cleaning damaged areas and providing recommendations to limit future mold growth.
Mold Remediation Services in Elkhart, IN Area
ServiceMaster by Monroe Restoration, Elkhart IN, mold remediation services include drying the moldy surfaces and disinfecting damaged areas. ServiceMaster technicians then dispose mold contaminated materials in sealed bags/sheets as part of the mold remediation.  Since mold and mildew is easily spread throughout the air, proper disposal of contaminated materials is an important part of mold damage restoration.  Once mold remediation is complete, ServiceMaster by Monroe Restoration experts will provide tips to prevent future mold growth so you and your family stay safe.
Choose professional mold remediation and mildew removal services from ServiceMaster by Monroe Restoration, Elkhart Indiana, by calling us at 574-231-7179, and discover true "Peace of Mind."
Related Mold Remediation & Removal Services
Mold Removal in Michigan City, Indiana
Mold Damage Cleanup in Goshen, Indiana
Mold Damage Restoration in Hammond, Indiana
Mold Damage Repair in Valparaiso, Indiana
Mold Removal Services in South Bend, Indiana
---
Recent Reviews
December 19, 2019
David and Terri Lynn Mann
New Buffalo, MI
Your whole team has made us feel comfortable about the situation we are in! We were very upset in the beginnning because people would be going through our belongings! But you all made us feel so much better and comfortable with the process! The cleaning also was so great! You have also been getting it done in a reasonable amount of time! We appreciate that! Thank you so very much!
September 5, 2019
Todd Sobieralski
Niles, MI
ServiceMaster was quick to respond. Right from my first contact with Julie McMahon I got the feeling of reassurance that I had called the right company. David Korlowicz who coordinated everything was GREAT! Very professional, well trained and personable, as was everybody I was in contact with. So glad I called! Thank You! Todd Sobieralski
---