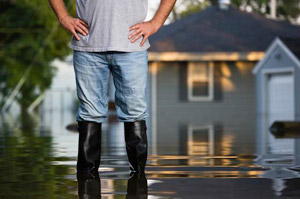 Unfixed pipe leaks, unpleasant sewage backups or unexpected water overflows due to torrential rains cause flooding—and, as a result, flood damage. Standing water in residences and businesses is cause for major concern. Not only does floodwater containing pollutants and bacteria pose as a major health hazard, but flood damage destroys sound building structures.
Health and sanitation are serious issues caused by flood damage. Harmful bacteria, dangerous micro-organisms—all found in stagnant water—and mold growth are contributors to disease and infection.
Building structures are severely weakened due to flood damage. Porous materials, such as drywall, hardwood flooring and furnishings absorb water. Over a short period of time, these structures lose strength, making inhabiting such a space an unnecessary risk.
The Elkhart region is subject to heavy rainfalls. Couple this fact with commonplace structural flaws, and flood damage becomes a likely hassle for both residents and business owners. ServiceMaster by Monroe Restoration dependably serves Elkhart, IN and the surrounding areas, offering immediate and complete flood damage restoration services.
Flood Damage Cleanup in Elkhart, IN Area
Needless to say, restoring your residence or business to its pre-damage state is a necessary task. ServiceMaster by Monroe Restoration technicians are well-equipped to successfully tackle the challenges posed by flood water. We use state-of-the-art equipment to thoroughly extract the ample standing water contaminating your property and our dehumidifiers dry out moisture trapped in furnishings and building materials. Our advanced processes also include cleaning and sanitizing the areas to ensure a safe return to the premises.
Sewage Backup Cleanup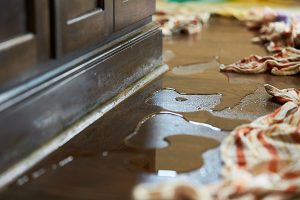 When your sewage lines get clogged, wastewater backs up right into your property. The result is a dangerous mix of human waste and bacteria that causes severe health issues. Should sewage water creep into your home or business, keep a safe distance from it and call ServiceMaster by Monroe Restoration immediately. Our experienced technicians expertly unclog the blocked sewage lines and eliminate all contaminated water using our advanced water extraction and drying equipment. Our experts then disinfect the area to ensure a safe return.
ServiceMaster by Monroe Restoration's comprehensive services feature advanced methods to restore your property to its pre-damaged condition:
Our technicians thoroughly extract every drop of flood water from your home or business.
We clean and sanitize all affected areas so you can return with peace of mind.
Our specialists use drying and dehumidifying equipment to remove all moisture from building materials and furniture, deeming them safe for continued usage.
Our service experts offer carpet and upholstery cleaning, if needed.
Waste no time responding to the event of water overflows or flooding on your property. The flood damage that results poses a potential health hazard, while causing definite structural damage to your property. Call ServiceMaster by Monroe Restoration immediately so that our experienced technicians can swiftly remove the flood water and restore the affected area to its original condition. Our team is available 24 hours a day at (574) 231-7179 to respond to your emergency in Elkhart, IN.
---
Recent Reviews
December 19, 2019
David and Terri Lynn Mann
New Buffalo, MI
Your whole team has made us feel comfortable about the situation we are in! We were very upset in the beginnning because people would be going through our belongings! But you all made us feel so much better and comfortable with the process! The cleaning also was so great! You have also been getting it done in a reasonable amount of time! We appreciate that! Thank you so very much!
---