When running a business, it is important for your office or workspace to look professional.  A clean and comfortable workspace will impress visitors and potential customers as well as improve the productivity of your employees.  One of the best ways to keep your office or work space looking clean is with professional commercial carpet cleaning services.  Commercial carpeting experiences a high volume of daily foot traffic that causes it to get dirty, and the carpet will wear out quickly without thorough cleaning.  ServiceMaster by Monroe Restoration provides commercial carpet cleaning services in Mishawaka, IN to effectively clean carpeting in offices and commercial buildings.  We use advanced cleaning equipment and methods to clean all types of commercial carpeting so it will look better and last longer.
Commercial Carpet Cleaning Process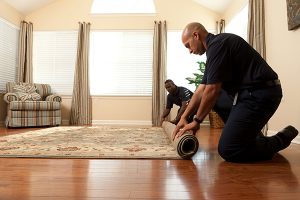 Carpeting in commercial settings experiences a high volume of foot traffic each day that contributes to debris buildup and wear and tear.  It doesn't take long for commercial carpeting to get dull or worn out without the proper maintenance which could diminish the look of the entire office.  The debris buildup in the carpet can also contribute to an unhealthy environment by negatively impacting the indoor air quality.  As people walk on the carpet, the debris will get kicked back up into the breathing air where it can trigger allergies and other health issues.
At ServiceMaster by Monroe Restoration, we can deep clean and restore commercial carpeting with the hot water extraction method.  This method uses a hot water solution and mild detergent to loosen dirt and soil that is embedded in the carpet fibers.  The same specialized equipment that is used to apply the solution extracts it back out immediately, removing the loosened dirt and debris as well.  The extracted solution is deposited directly into our truck-mounted holding tank that will be emptied off-site.  This solution is safe for all types of commercial carpeting and it takes less than 24 hours for your carpet to dry.  Any stains on the carpet are removed with specialized cleaning products.
The commercial carpet cleaning services we provide consist of the following:
Pre-Treatment: We will pre-spray stains and high traffic areas to loosen embedded dirt and debris.
Hot Water Extraction: The hot water extraction method is used to remove debris from the entire carpet. This will help restore the original color of the carpet and extend its life.
Certified Technicians: Our technicians are trained and certified to provide effective commercial carpet cleaning services.
Long Term Protection: We can prolong the good condition of your carpet with the application of a fabric and stain protector.
Convenience: You can schedule an appointment when it is most convenient to you and we will get the job done in one visit. Your carpet will be ready to use the following day.
Free Estimate: We provide you with an initial free estimate after an inspection of the carpet.
Guarantee: We do our final inspection with you to guarantee you are happy with the results.
Keeping the carpet in your office consistently clean will not only reflect well on your business, but also prolong the life of the carpet to save you the cost of replacing it.  Contact ServiceMaster by Monroe Restoration if you are interested in professional carpet cleaning services for your business in Mishawaka, IN.  We can provide one-time cleaning services or set up a regular cleaning schedule for consistent maintenance.  You can reach us at (574) 231-7179 to learn more.
---
Recent Reviews
September 5, 2019
Todd Sobieralski
Niles, MI
ServiceMaster was quick to respond. Right from my first contact with Julie McMahon I got the feeling of reassurance that I had called the right company. David Korlowicz who coordinated everything was GREAT! Very professional, well trained and personable, as was everybody I was in contact with. So glad I called! Thank You! Todd Sobieralski
July 27, 2019
Austin & Rebecca Hart
Three Rivers, IN
We had the best experience with them considering our circumstances. Our basement flooded and they handled everything. The crew came out as soon as they received the call and was so nice. Dried out our basement, brought a dumpster for everything we lost and removed it for us. I would recommend them to anyone.
---