It is rare to find a home without tile and grout surfaces because they are an ideal choice for kitchens and bathrooms.  Tile and grout has a high resistance to moisture and the availability of tiles in many different styles and colors makes it easy to work them into the decor of the space.  These surfaces do gradually become dirty and worn out, however, as wearing of the finish leaves them vulnerable to dirt, stains, and mildew.  RestorationMaster provides professional tile and grout cleaning services to remove built up debris and mildew from these surfaces in Elkhart, IN.  Our technicians have the right equipment and cleaning products to effectively deep clean tile and grout surfaces as well as restore their original color and appearance.
Tile and Grout Cleaning Services in Elkhart, IN Area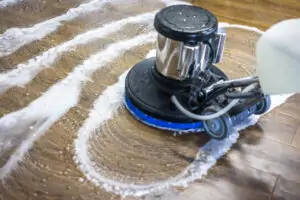 Tile and grout surfaces are not only chosen for their durability and moisture resistance, but also for their design flexibility. The right style and color tiles can really enhance the interior décor of a kitchen or bathroom.  However, if the tile and grout lines are allowed to become dirty or faded in color, this can affect the look of the space in a negative way.  Wearing of the tile finish results in a buildup of dirt and debris on the tile surfaces and excess moisture will gather in the grout lines, leading to mold or mildew growth.  We can effectively remove debris buildup and mildew by treating the surfaces with the high-pressure water extraction method.  This cleaning method will leave the tile and grout surfaces free of mold and debris to restore its original color and appearance.
The Tile and Grout Cleaning Services We Provide Include These Steps:
Evaluation of the surfaces that need cleaning
Pre-treatment to loosen spots and stains
High pressure water extraction cleaning of the tile surfaces
Corner and baseboard cleaning
Thorough drying of the tile and grout
The tile and grout surfaces in your kitchen and bathroom are among the most durable household surfaces, but they will become dirty or faded over time.  As soon as the tile in your home in Elkhart, IN starts to look faded or stained, contact RestorationMaster for professional tile and grout cleaning.  Give us a call at (574) 891-8076 for more information.