Just about every home has tile and grout surfaces in the kitchen and bathroom because they are moisture resistant and work well with any décor.  However, the finish on these surfaces does wear out over time which makes the tile surfaces and grout lines vulnerable to debris buildup and moisture.  Cleaning these surfaces regularly can help slow the debris buildup, but you still may end up with stains and mildew that are tough to remove.
Tile and Grout Cleaning in Mishawaka, IN Area
ServiceMaster by Monroe Restoration provides tile and grout cleaning services for homes and businesses in Mishawaka, IN using advanced cleaning methods and equipment.  We can effectively remove dirt and stains from the tile and grout lines and restore the original color of the tile surfaces.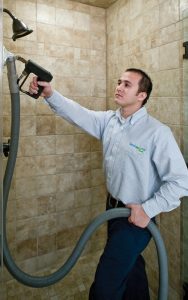 Tile flooring and walls can have a major impact on the décor of a kitchen or bathroom and when the tile becomes discolored or stained, it can affect the look of the whole room.  As the finish on the tiles wears out, dirt, debris, and moisture can stick to the surface.  The grout lines are especially vulnerable to mold and mildew because they trap moisture.  Our technicians use advanced equipment to blast dirt and mildew from the tile and grout surfaces with the high-pressure water extraction cleaning method.  This method is more effective than sweeping and mopping and it will leave your tile and grout surfaces looking brand new.
You can expect the following from our tile and grout cleaning services:
Assessment of the tile and grout surfaces
Pre-treatment for stains and spots
Cleaning of the entire surface with the high-pressure water extraction method
Cleaning of the baseboards and corners
Drying of all treated surfaces
You can maintain your tile and grout surfaces with regular sweeping and mopping but it takes professional cleaning to completely remove dirt and mildew.  Give ServiceMaster by Monroe Restoration a call if the tile and grout surfaces in your home in Mishawaka, IN need to be cleaned and restored.  We are available at (574) 231-7179 to set up an appointment.
---
Recent Reviews
September 5, 2019
Todd Sobieralski
Niles, MI
ServiceMaster was quick to respond. Right from my first contact with Julie McMahon I got the feeling of reassurance that I had called the right company. David Korlowicz who coordinated everything was GREAT! Very professional, well trained and personable, as was everybody I was in contact with. So glad I called! Thank You! Todd Sobieralski
July 27, 2019
Austin & Rebecca Hart
Three Rivers, IN
We had the best experience with them considering our circumstances. Our basement flooded and they handled everything. The crew came out as soon as they received the call and was so nice. Dried out our basement, brought a dumpster for everything we lost and removed it for us. I would recommend them to anyone.
---