ServiceMaster by Rice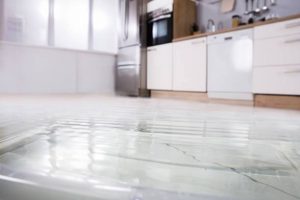 Almost every home or building has been affected by water damage because it is so common but each case can differ drastically depending on the source and extent of the damage.  Water damage can be caused by wet weather conditions such as rain, flooding, and humidity as well as by plumbing issues or burst pipes.  Many building materials in your home will continue to absorb water because they are porous so make sure to call ServiceMaster by Rice for water damage restoration services in Cedar Rapids, IA.  Our technicians will stop the spread of the damage and remove excess water from the structural elements and furnishings.
For over 40 years, ServiceMaster by Rice has been providing expert water damage restoration for the homes and businesses of Cedar Rapids, IA.  We will quickly assess the damage to create a targeted restoration plan using our advanced drying equipment and we can also find hidden water damage with our moisture detection equipment.  Our technicians have the experience to provide a swift and effective solution for your specific water damage problem and we will immediately limit the damage to save you time and money on the repairs.
Water Damage Restoration in Cedar Rapids, IA – Watch Our ServiceMaster Video:
For water damage restoration and cleanup services in Cedar Rapids, IA, contact ServiceMaster by Rice at (319) 243-3777. We're available 24/7 for water damage emergencies.
You can expect the following from our water damage restoration services:
Treatment of the Source: We start by locating the source of the water or moisture and fix the problem to prevent further damage. We then evaluate the extent of the absorption with our probes and moisture detection meters.
Assessment of the Carpet: Excess water can cause extensive damage to your carpet and we can evaluate the carpeting to determine if it can be salvaged or if it needs to be replaced.
Assessment of the Flooring: Water and moisture can get trapped under hard surface floors such as hardwood, laminate, and vinyl where it can cause significant damage or mold growth. Our moisture meters allow us to detect the amount of water absorbed into the sub-floor so we can dry it effectively.
Assessment of the Walls, Ceilings, and Cabinets: Hidden water or moisture damage within the walls, ceilings, and cabinets can lead to severe structural damage or mold growth. We can detect the level of damage with our moisture meters before removing areas of the wall or ceiling.
Structural Drying: Once we have determined the extent of the water damage, we begin the drying process with air movers and dehumidifiers that can remove water and moisture from the structural elements and furnishings of your home.
Contact Us for Water Damage Restoration in Cedar Rapids, IA
Water damage can be deceiving because of how it can get absorbed in wood, insulation and drywall so make sure to call ServiceMaster by Rice if you discover water damage in your home or business in Cedar Rapids, IA.  We have years of experience and the best drying equipment available to remove excess water and moisture in commercial and residential settings.
We are available 24 hours a day at (319) 243-3777 to respond to water damage emergencies in the Cedar Rapids, IA area.
---
Related Water Damage Restoration Services
Water Damage Restoration in Clive, IA
Water Damage Removal in Des Moines, IA
Water Damage Restoration in Marion, IA
---
Recent Reviews
October 12, 2020
Richard Felter
Cedar Rapids, IA
I appreciate how quickly my service was accomplished. Done in a vey thorough manner. Much care was given to the savable items in our project. The manager was very courteous and showed an interest in the completion of our project. It is comforting to know that ServiceMaster had our interest at heart When one must deal wilh a disaster it is good to know that firms light SeviceMaster brings comfort in what must be done Good, positive experience!!