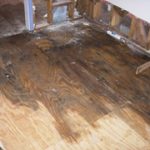 Even though mold growth is completely natural, it can be a major problem within your home or building due to the health issues and extensive property damage it can cause.  Mold spores need a source of water or moisture to grow plus an organic food source so if there has been significant water damage in your home, the risk for developing mold is quite high.  ServiceMaster by Rice provides mold removal services to remove mold growth from homes and buildings in Cedar Rapids, IA.  The visible mold could only be part of the problem so contact us right away if you discover any mold growth.
Mold commonly grows in hidden areas and spreads to cause significant damage before it is visible to the homeowner.  By looking out for these following signs, you can determine whether or not there may be hidden mold in your home:
Visible mold growth anywhere in the building
Musty odors
Wet areas from humidity or plumbing leaks
Sudden health issues for those in your home that match the symptoms of mold exposure
Certified Mold Removal Technicians
                Each of our technicians have the IICRC certification and training to deal with mold contaminations in commercial or residential settings.  We can also test the air to get an accurate measure of the contamination and locate any hidden mold.  Our mold removal services typically include:
Complete removal of mold growth
Repair of the moisture source to reduce the risk for future growth
Effective remediation and drying from trained and experienced professionals
After we assess the scope of the mold growth in your home or building, we create and implement a mold removal plan with these steps:
Isolation of the mold growth to protected unaffected areas
Use of personal protective equipment (PPE) such as special clothing and respirators
Repair of the moisture source and complete drying of the area
Mold testing by an independent company to ensure that all mold is removed
Mold growth is difficult to remove without the right training and equipment and can cause negative health effects so make sure you take the following precautions after finding mold:
Do not try to clean up mold growth: Improper cleaning can actually cause the mold to release its spores which can result in mold growth in other areas of the building.
Look for any potential signs of mold: If you ignore any signs of mold growth, you could be allowing a mold problem to become even worse.
Contact ServiceMaster by Rice as soon as any mold growth is discovered.
Do not hesitate to contact ServiceMaster by Rice if you find mold growth or think you may have hidden mold growth in your home or building in Cedar Rapids, IA.  We can provide mold removal services for any size contamination and we can also test for hidden mold growth.  You can call us anytime at (319) 243-3777 for more information about our mold removal services.
---
Related Mold Removal Services
Mold Removal in Des Moines, IA
Mold Remediation in Clive, IA
Mold Removal in Marion, IA
---
Recent Reviews
June 11, 2019
As of Monday it was a 10,as of today a 5. you have not quite finished what was told would be done. Our pool table was to be removed by you guys per Doug. Then once removed the remaining sub floor that it is on would be removed. This was to be done Tuesday 6/11. It is all still there as of this writing. Called Doug about this Tuesday morning and said would check with the Pool Table movers. Did he do this? Never once heard from any movers to arrange a time to be there. So makes me wonder if this would be completed if wasn't writing this here. Steve [LAST NAME REMOVED]
June 6, 2019
Our sump pump failed right before Memorial Day Weekend 2019 and flooded our basement with about 1-2 inches of water. American Family Insurance recommended that we call Service Master and one other company. We called both immediately; the other company never, ever called back!!! While Service Master could not come out immediately, when they finally did come out to survey our damage, their employees were professional, polite, respectful and thorough. A Project Manager was on site and made sure that our entire basement was checked. They immediately got to work and within several hours, we had fans throughout the basement. Eventually, they removed all the wet padding and carpeting, cut out the affected dry wall and removed the damp insulation. Their employees got rid of all the wet material. It took about a week but they did a great job. I would recommend Service Master in a heart beat!
Click here for more reviews