(319) 243-3777
Dust is virtually everywhere in a home and it is difficult to keep out as according to estimates, about 40 pounds of dust circulates through the air in your home in one year.   Much of this dust ends up in the HVAC system as it draws in air to redistribute it through heating and cooling.  As the dust passes through the HVAC system, it gathers within the air ducts and on the component parts which can lower the efficiency of the heating and cooling, resulting in higher energy bills, as well as contribute to poor indoor air quality as the dust and other airborne debris gets redistributed into the breathing air.  ServiceMaster by Rice provides air duct cleaning services for homes and businesses in Marion and Cedar Rapids, IA.  We have the right equipment to remove dust and other debris that has accumulated within the air ducts and on the component parts.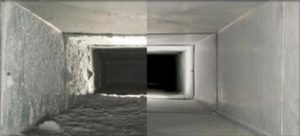 The air ducts in your home should be professionally cleaned once every several years to remove the accumulated dust and debris from the system.  A buildup of dust in the air ducts and on the component parts not only lowers the efficiency of the HVAC system, but also increases the likelihood that it could break down and require expensive repairs.  Dirty air ducts can also cause a range of negative health reactions such as allergies and respiratory problems by redistributing the dust and debris back into the breathing air when it kicks on for the heating and cooling.  The technicians of ServiceMaster by Rice use the best available cleaning equipment to completely remove dust and airborne debris from the HVAC system including the ducts and component parts.  These services will result in a noticeable reduction in your heating and cooling bills due to the increased efficiency of the system and help improve the indoor air quality of your home.
The air duct cleaning services we provide are effective for the following:
Air ducts
Vents and registers
Drip pans
Grilles and diffusers
Heating and cooling coils
Fan motor and housing
Air handling unit housing
Your home or building may need professional air duct cleaning services if there is a buildup of dust on the return and supply vents or if your heating and cooling bills are increasing every month.  ServiceMaster by Rice provides professional air duct cleaning services to clean out the air ducts for homes and businesses in Cedar Rapids, IA.  You can call us 24 hours a day at (319) 243-3777 for more information about our air duct cleaning services.
---
Related Air Duct Cleaning Services
Air Duct Cleaning in Clive, IA
---
Recent Reviews
June 11, 2019
As of Monday it was a 10,as of today a 5. you have not quite finished what was told would be done. Our pool table was to be removed by you guys per Doug. Then once removed the remaining sub floor that it is on would be removed. This was to be done Tuesday 6/11. It is all still there as of this writing. Called Doug about this Tuesday morning and said would check with the Pool Table movers. Did he do this? Never once heard from any movers to arrange a time to be there. So makes me wonder if this would be completed if wasn't writing this here. Steve [LAST NAME REMOVED]
June 6, 2019
Our sump pump failed right before Memorial Day Weekend 2019 and flooded our basement with about 1-2 inches of water. American Family Insurance recommended that we call Service Master and one other company. We called both immediately; the other company never, ever called back!!! While Service Master could not come out immediately, when they finally did come out to survey our damage, their employees were professional, polite, respectful and thorough. A Project Manager was on site and made sure that our entire basement was checked. They immediately got to work and within several hours, we had fans throughout the basement. Eventually, they removed all the wet padding and carpeting, cut out the affected dry wall and removed the damp insulation. Their employees got rid of all the wet material. It took about a week but they did a great job. I would recommend Service Master in a heart beat!
Click here for more reviews