ServiceMaster by Rice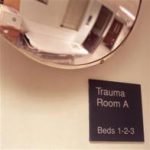 It can be very difficult for anyone to encounter a trauma scene involving a serious injury or death but it is of extreme importance to react the right way in these scenarios.  Crime scenes require immediate attention from law enforcement and it takes a certified professional to clean up the scene in a way that does not threaten the safety of those around.  ServiceMaster by Rice provides trauma scene cleaning services to remove biohazard materials and restore the area after a violent crime or accident in Cedar Rapids, IA.  Our technicians are specially trained to handle trauma scene cleaning in a variety of different situations.
Biohazard materials are commonly found at the scene of a major accident, violent crime, or death and they can spread infection and serious disease if they are handled or cleaned up improperly.  The technicians of ServiceMaster by Rice can safely clean up and remove all types of biohazard materials such as blood, tissues, and other bodily fluids as well as thoroughly clean and disinfect the area to make it safe.  You should call law enforcement officials and EMT's immediately after an accident, death, or violent crime but our specially certified technicians are needed to clean and restore the scene in cooperation with the crime scene investigation.
ServiceMaster provides trauma scene cleaning for the following scenarios:
Unattended Death Cleanup: When a death occurs, the decomposition process begins immediately which causes bodily fluids to be released. These bodily fluids can affect the surrounding flooring, furnishings, and structural elements of the home and the bacteria and toxins contained in these fluids make the scene of an unattended death very dangerous.  Our technicians can remove the bodily fluids and odors, repair the resulting damage, and disinfect the scene.
Crime Scene Cleaning: The scene of a violent crime is often quite messy with biohazard materials such as blood and bodily fluids and even weapons used to commit the crime. Once the crime scene investigation is complete, we will completely restore the scene by cleaning up and removing all biohazard materials and fingerprint dust left behind by law enforcement.  As part of this service, we will also disinfect the scene and repair any damage to the home or building.
Hoarding Cleaning: Cleaning out a hoarder's home involves more than just removing unnecessary clutter, dangerous materials such as mold, bacteria, bodily fluids, and dead animals may also be found in the hoard.  Our technicians are fully prepared to deal with any biohazard materials we may encounter during a hoarding cleaning project.  Once the hoarded items and dangerous materials are removed, we fully clean and sanitize the home to restore safe living conditions.
Industrial Accident/ Injury Cleaning: Industrial accidents are very serious incidents as they often result in a major injury which can be traumatic for the victims and their co-workers. When an accident occurs in the workplace, you should call ServiceMaster by Rice right away to cleanup any biohazard materials and protect the safety of the rest of your workers.  Anyone who attempts to clean up biohazard materials without the proper training or equipment is at great risk for infection or disease.
Vehicle Biohazard Cleaning: If your vehicle survives a major accident but is contaminated with biohazard materials, our technicians can thoroughly clean and disinfect the inside of your vehicle so that it is safe for use.
Contact Us for Trauma or Crime Scene and Biohazard Cleanup in Cedar Rapids, IA
Any trauma scene involving a serious injury or death is overwhelming at first but after the initial chaos with EMT's and law enforcement, it is up to you to have the scene cleaned and restored.  ServiceMaster by Rice provides a range of trauma and crime scene cleaning services in Cedar Rapids, IA and we are available 24 hours a day at (319) 243-3777 to respond to your emergencies.
---
Related Commercial Disaster Restoration Services
Commercial Disaster Restoration in Des Moines, IA
Commercial Disaster Restoration in Clive, IA
Commercial Disaster Restoration in Marion, IA
---
Recent Reviews
October 12, 2020
Richard Felter
Cedar Rapids, IA
I appreciate how quickly my service was accomplished. Done in a vey thorough manner. Much care was given to the savable items in our project. The manager was very courteous and showed an interest in the completion of our project. It is comforting to know that ServiceMaster had our interest at heart When one must deal wilh a disaster it is good to know that firms light SeviceMaster brings comfort in what must be done Good, positive experience!!