ServiceMaster by Rice
Natural disasters tend to happen unexpectedly and even if your business is prepared, there is still a good chance you will have to hire a professional for disaster restoration.  When a business sustains damage due to a natural disaster, it is very important to react quickly to stop the spread of the damage and limit your company's loss of time and money.  ServiceMaster by Rice provides commercial disaster restoration services for businesses in Des Moines, IA to clean up and restore offices and other commercial settings that have been damaged in a disaster.  We have the experience and the equipment to provide disaster restoration in any commercial setting and we work quickly to get your business back up and running.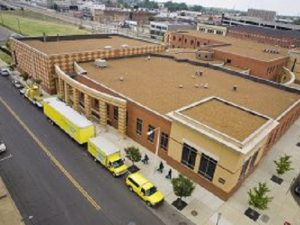 When the damage from a natural disaster puts your business out of commission, the time spent out of commission along with the cost of the restoration will cause your company to lose money.  Our technicians work quickly and efficiently to limit your losses and complete the entire restoration process using the best cleaning equipment and products of the industry.  We can handle any size loss in a range of commercial settings and we will also restore safe working conditions for your employees.  The commercial restoration services we provide cover the following types of disasters:
Severe storms such as tornadoes and floods
Ensuring the safety of your employees and tenants is important during the disaster and you should also make sure that they return to a safe, clean working environment.  Some disasters can result in poor indoor air quality which can lead to negative health reactions, especially if there is mold growth or other harmful substances present.  Our technicians have the proper equipment to remove any dangerous materials including mold and bacteria to help improve the indoor air quality for safer working conditions.  By providing a healthy environment for you employees, you can help avoid certain problems including low productivity and high turnover.
If your business in Des Moines, IA has been damaged by a disaster, do not hesitate to contact ServiceMaster by Rice for commercial disaster restoration.  We respond quickly to limit the damage which will save your company time and money on the repairs and we use the best available cleaning equipment to ensure that your office or commercial space is completely restored.  You can reach us 24 hours a day at (515) 212-2511 for emergency commercial disaster restoration services.
---
Related Commercial Disaster Restoration Services
Commercial Disaster Restoration in Clive, IA
Commercial Disaster Restoration in Cedar Rapids, IA
Commercial Disaster Restoration in Marion, IA
---
Recent Reviews