ServiceMaster by Rice
The carpet is the most heavily used furnishing in a home and as a result, it constantly traps dirt, dust, and other debris from daily foot traffic.  If this accumulated debris is not removed from the carpet, it can lead to premature discoloration and deterioration of the fibers as well as contribute to poor indoor air quality.  ServiceMaster by Rice provides professional carpet cleaning services to clean and restore carpeting in Des Moines, IA.  We use state-of-the-art equipment and green cleaning products to thoroughly deep clean carpets and restore their original look.
At ServiceMaster by Rice, we employ a green carpet cleaning process that involves green cleaning products and hot water extraction.  Our hot water extraction equipment deposits hot water and the cleaning solution deep into the carpet fibers and extracts the water back out along with embedded dirt and debris.  The water that we extract out of your carpet is collected in our machine and we will dispose of it safely at our facility.
ServiceMaster Carpet Cleaning in Des Moines, IA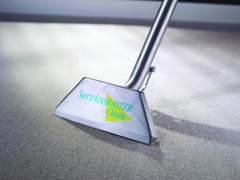 You can expect the following benefits from our green carpet cleaning services:
Green Cleaning Solutions: We pre-spray your carpet with green cleaning products before cleaning with the hot water extraction method.
Removal of Dirt and Debris: The hot water extraction method effectively removes embedded dirt, dust, and other debris from the carpet fibers.
Certified Technicians: Our technicians are IICRC certified and will clean your carpets with a sense of professionalism and respect for your home.
Long Term Protection: We apply a fabric and stain solution once we are done cleaning to protect your carpet.
Convenience: Our carpet cleaning process can be done in one day and your carpets will dry quickly.
Free Estimate: We provide free estimates based on the size of your carpeted area and the exact cleaning services needed.
Guarantee: We guarantee that our carpet cleaning services cannot be matched.
Contact Us for Professional Carpet Cleaning in Des Moines, IA
Some DIY carpet cleaners may leave your carpet soaking wet which results in a longer drying time and increases the risk of mold or mildew in the fibers.  Our professionals can effectively clean all types of carpet with minimal water and cleaning solutions for much faster drying times.  If the carpeting in your home in Des Moines, IA could benefit from professional carpet cleaning services, call ServiceMaster by Rice.  You can reach us at (515) 212-2511 to schedule an appointment.
---
Related Carpet Cleaning Services
Carpet Cleaning in Clive, IA
Carpet Cleaning in Cedar Rapids, IA
---
Recent Reviews