Even though mold is a part of the natural environment, finding it in your home or building can be very troublesome because it can cause property damage as well as serious health effects from extensive exposure.  Moisture is the main cause of indoor mold growth so if you have dealt with indoor flooding, a broken pipe, or some other form of water damage, you are at a much higher risk of experiencing mold growth.  ServiceMaster by Rice provides mold remediation services in Des Moines, IA to safely remove mold contaminations from homes and businesses.  As soon as you notice mold growth, make sure to call us to stop its spread and locate any hidden mold.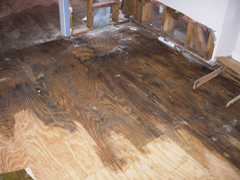 The trickiest part about mold is that it can grow undetected in hidden areas and cause extensive damage before it becomes visible.  It is very important for homeowners to know what to look for and recognize the following signs to determine if their home may have mold:
Visible mold growth on wooden surfaces, walls, and other structures
Strong, musty smell
Damp areas or leaking pipes
Sudden health problems among family members such as headaches, respiratory issues, and other allergic reactions associated with exposure to mold.
Certified Mold Remediation Technicians
The technicians of ServiceMaster by Rice are IICRC certified to provide effective mold remediation and we can also test the conditions to fully determine the scope of the mold growth in order to respond with the appropriate actions.  In general, our response includes:
Removal of all mold growth
Treatment of the moisture source to prevent further mold growth
Mold removal and drying process done by trained and certified technicians
Once the extent of the mold growth in your home is understood, we form a remediation plan that includes the following steps:
Use of personal protective equipment (PPE) including respirators and special clothing
Containment of the mold to the affected areas
Removal of the moisture source and thorough drying of the affected areas
Testing by an independent company to make sure the mold was adequately removed
Because mold can have serious health implications, you are advised to take the following precautions to protect yourself and your family:
Do not attempt to remove mold growth: Trying to clean up mold growth can cause it to release its spores which will result in a much bigger problem.
Take notice of all potential signs of mold growth: Ignoring signs that you may have mold growth can be dangerous as it will allow the mold to spread further.
Call ServiceMaster by Rice immediately if you discover mold growth.
If you find mold growth in your home or building or have reason to believe that there may be hidden mold growth, contact ServiceMaster by Rice for mold remediation services.  Our technicians are trained and certified to handle all levels of mold contamination and our testing capabilities allow us to find and remove hidden mold growth. 
You can reach us 24 hours a day at (515) 212-2511 to learn more about our mold remediation services in Des Moines, IA.
---
Related Mold Removal Services
Mold Removal in Clive, IA
Mold Remediation in Cedar Rapids, IA
Mold Removal in Marion, IA
---
Recent Reviews
June 11, 2019
As of Monday it was a 10,as of today a 5. you have not quite finished what was told would be done. Our pool table was to be removed by you guys per Doug. Then once removed the remaining sub floor that it is on would be removed. This was to be done Tuesday 6/11. It is all still there as of this writing. Called Doug about this Tuesday morning and said would check with the Pool Table movers. Did he do this? Never once heard from any movers to arrange a time to be there. So makes me wonder if this would be completed if wasn't writing this here. Steve [LAST NAME REMOVED]
June 6, 2019
Our sump pump failed right before Memorial Day Weekend 2019 and flooded our basement with about 1-2 inches of water. American Family Insurance recommended that we call Service Master and one other company. We called both immediately; the other company never, ever called back!!! While Service Master could not come out immediately, when they finally did come out to survey our damage, their employees were professional, polite, respectful and thorough. A Project Manager was on site and made sure that our entire basement was checked. They immediately got to work and within several hours, we had fans throughout the basement. Eventually, they removed all the wet padding and carpeting, cut out the affected dry wall and removed the damp insulation. Their employees got rid of all the wet material. It took about a week but they did a great job. I would recommend Service Master in a heart beat!
Click here for more reviews