If you are facing a situation in which a serious injury or death has occurred, it can be difficult to keep your emotions in check.  However, it is important to take the right actions in the aftermath to have the area cleaned for the safety of those around and to get law enforcement involved if a crime has been committed.  ServiceMaster by Rice provides trauma scene cleaning services in Des Moines, IA to remove all physical evidence of the incident and disinfect the area so that it is safe.  Our services are effective for a variety of trauma situations that require specialized cleanup.
Our technicians are specially trained and have the expertise to clean up biohazard materials such as blood and bodily fluids that are normally found at trauma scenes.  These biohazard materials are very dangerous to handle without the proper training as they harbor toxins, bacteria, and other harmful substances that can spread infection and communicable disease.  Even though law enforcement or EMT's are the first to arrive on the scene after such an incident, they will not clean up the biohazard materials left behind.  You have to call the certified professionals of ServiceMaster by Rice to safely clean up and restore the scene once law enforcement has completed their investigation.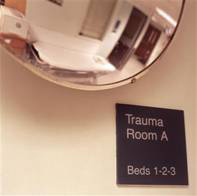 Our trauma scene cleaning services cover the following incidents:
Unattended Death Cleanup: Decomposition begins as soon as death occurs which causes bodily fluids to be released that can affect the surrounding area. These fluids seep into flooring, carpeting, furniture, and structural elements and they often contain bacteria and disease causing pathogens that make the scene very dangerous.  Our technicians have the right training and cleaning equipment to safely clean up the scene of an unattended death.  We will properly disinfect the area, repair damaged structures, and remove any foul odors to restore the original condition of the area.
Crime Scene Cleaning: If a violent crime has been committed, chances are the scene is chaotic with blood and dangerous materials used in the assault. After law enforcement has completed their investigation, our technicians can safely clean up all biohazard materials and fingerprint dust left behind.  Our crime scene cleaning services include thorough cleaning and sanitization of the scene as well as structural repairs.
Hoarding Cleaning: Hoarding cleaning can be a messy job because biohazard materials such as bodily fluids, bacteria, mold, and decomposed animals can be found amongst the hoarded items. You never know what you will encounter when cleaning out a hoarder's home and our technicians are equipped to handle any biohazard materials we may encounter.  We will also sanitize the home and provide any needed structural repairs for improved living conditions.
Industrial Accident/ Injury Cleaning: Industrial accidents are very traumatic for the victim as well as the victim's co-workers that witness and react to the accident. It is important to call a trained professional immediately after such an incident to clean up the scene and ensure the safety of the workers.  Attempting to clean up any blood and bodily fluids yourself can be dangerous and contribute to the spread of infection and disease.
Vehicle Biohazard Cleaning: If you vehicle is still drivable after a major accident, it is best to call our professionals instead of trying to clean it yourself. We can completely clean out vehicles that have been contaminated with biohazard materials so that they are safe to drive.
We understand that cleaning up the scene is one of the last tings on your mind when you initially encounter a trauma scene, but once the dust settles and law enforcement has left the scene, it is important to get the scene cleaned up as quickly and safely as possible.  ServiceMaster by Rice responds to all trauma scene cleaning needs in Des Moines, IA.
You can call us 24 hours a day at (515) 212-2511 for emergency response.
---
Related Trauma Scene Cleaning Services
Trauma Scene Cleaning in Clive, IA
Biohazard Cleaning in Cedar Rapids, IA
Biohazard and Trauma Scene Cleaning in Marion, IA
---
Recent Reviews
June 11, 2019
As of Monday it was a 10,as of today a 5. you have not quite finished what was told would be done. Our pool table was to be removed by you guys per Doug. Then once removed the remaining sub floor that it is on would be removed. This was to be done Tuesday 6/11. It is all still there as of this writing. Called Doug about this Tuesday morning and said would check with the Pool Table movers. Did he do this? Never once heard from any movers to arrange a time to be there. So makes me wonder if this would be completed if wasn't writing this here. Steve [LAST NAME REMOVED]
June 6, 2019
Our sump pump failed right before Memorial Day Weekend 2019 and flooded our basement with about 1-2 inches of water. American Family Insurance recommended that we call Service Master and one other company. We called both immediately; the other company never, ever called back!!! While Service Master could not come out immediately, when they finally did come out to survey our damage, their employees were professional, polite, respectful and thorough. A Project Manager was on site and made sure that our entire basement was checked. They immediately got to work and within several hours, we had fans throughout the basement. Eventually, they removed all the wet padding and carpeting, cut out the affected dry wall and removed the damp insulation. Their employees got rid of all the wet material. It took about a week but they did a great job. I would recommend Service Master in a heart beat!
Click here for more reviews