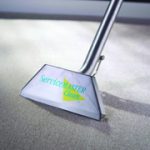 Even though the carpet is the most used furnishing in a home or building, the carpeting is not often cleaned or maintained beyond just vacuuming.  The consistent foot traffic that your carpet experiences causes dirt, dust, and other debris to accumulate in the carpet fibers which could lead to discoloration and wear and tear that will shorten the life of the carpet.  ServiceMaster by Rice provides carpet cleaning services to thoroughly clean and restore all types of carpeting in homes and businesses in Cedar Rapids, IA.  Our advanced cleaning equipment and green cleaning products will remove embedded debris from the fibers to restore the original appearance of the carpet.
The carpet cleaning method that we use is the hot water extraction method which we execute with state-of-the-art cleaning equipment and effective green cleaning products.  Our truck-mounted equipment applies a hot water solution that cleans deep in the carpet fibers and as the solution is drawn back out of the carpet, it removes embedded soil and debris along with it.  The extracted water is gathered in our equipment and taken back to our facility for disposal.
Our professional green carpet cleaning services provide the following benefits:
Green Cleaning Solutions: Your carpet is pre-sprayed with our green cleaning products before beginning with the hot water extraction method.
Removal of Dirt and Debris: Our cleaning methods effectively remove embedded debris from the fibers which will improve the appearance and increase the life of the carpet.
Certified Technicians: Each of our technicians has IICRC certification to provide quality carpet cleaning services.
Long Term Protection: Our fabric and stain solution will keep your carpet protected.
Convenience: It only takes one day to complete the carpet cleaning process and the carpet will be dry within 24 hours.
Free Estimate: We measure the size of your carpet and provide a free estimate based on our measurements.
Guarantee: We guarantee quality carpet cleaning services with effective results.
Trying to clean your carpet yourself can be tricky and many DIY cleaning solutions can leave your carpet wet which takes longer to dry and increases the risk for mold or mildew.  We use effective green cleaning solutions and equipment that extracts the water back out of your carpet for a quick drying time.  If your carpet in your home or office in Cedar Rapids, IA could benefit from our carpet cleaning services, contact ServiceMaster by Rice at (319) 243-3777 to schedule an appointment.
---
Related Carpet Cleaning Services
Carpet Cleaning in Des Moines, IA
Carpet Cleaning in Clive, IA
---
Recent Reviews
June 11, 2019
As of Monday it was a 10,as of today a 5. you have not quite finished what was told would be done. Our pool table was to be removed by you guys per Doug. Then once removed the remaining sub floor that it is on would be removed. This was to be done Tuesday 6/11. It is all still there as of this writing. Called Doug about this Tuesday morning and said would check with the Pool Table movers. Did he do this? Never once heard from any movers to arrange a time to be there. So makes me wonder if this would be completed if wasn't writing this here. Steve [LAST NAME REMOVED]
June 6, 2019
Our sump pump failed right before Memorial Day Weekend 2019 and flooded our basement with about 1-2 inches of water. American Family Insurance recommended that we call Service Master and one other company. We called both immediately; the other company never, ever called back!!! While Service Master could not come out immediately, when they finally did come out to survey our damage, their employees were professional, polite, respectful and thorough. A Project Manager was on site and made sure that our entire basement was checked. They immediately got to work and within several hours, we had fans throughout the basement. Eventually, they removed all the wet padding and carpeting, cut out the affected dry wall and removed the damp insulation. Their employees got rid of all the wet material. It took about a week but they did a great job. I would recommend Service Master in a heart beat!
Click here for more reviews