ServiceMaster by Rice
Mold Remediation for Clive, IA
Although mold is natural, mold growth can become a severe issue in your home or business. It can cause the property's inhabitants health problems, such as allergies and other irritations, as well as structural damage to the property itself. For mold spores to grow and develop into a concern, they need an organic food source and a water/moisture source. Knowing this, if your property has suffered water damage, the chance for mold growth is high. ServiceMaster by Rice helps homes and businesses located in Clive, IA, by removing mold growth through our mold removal services. If you find mold growth in your property, contact us immediately, as the visible mold may only be one part of the issue.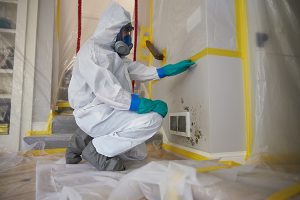 Hidden areas are places where mold commonly grows, and it will spread, leading to serious damage before becoming noticeable. If you keep an eye out for the following signs, you can figure out whether your property has hidden mold:
Musty odors
Visible mold growth
Wet areas caused by plumbing leaks or humidity
Sudden health problems for inhabitants that match mold exposure symptoms
Certified Mold Removal Technicians
All of the technicians who we employ have IICRC certification and the necessary training to address all cases of mold in residential and commercial settings. To get a sense of how much contamination has occurred and to find hidden mold, we can conduct air testing. The following are typically included with our mold removal services:
Completely removing mold growth
Repairing the source of water/moisture in order to prevent further mold growth
Effective drying and remediation performed by well-trained, highly-experienced professional technicians
When we have completed the mold growth assessment, we then develop and utilize a mold removal plan that includes the following steps:
Protecting unaffected areas by isolating mold growth
Using special clothing, respirators, and other personal protective equipment (PPE)
Repairing the source of moisture/water
Drying the source area thoroughly
Mold testing done by an independent company to guarantee the mold has been completely removed
Without the proper equipment and training, mold growth is difficult to address and potentially hazardous. As such, these precautions should be followed upon discovering mold growth:
Don't try cleaning the mold: If you don't clean mold correctly, then it can actually make the mold release more spores, leading to more mold growth in new areas.
Keep an eye out for indicators of mold growth: Ignoring signs of mold growth allows the mold problem to worsen.
Contact ServiceMaster by Rice once you've found mold growth.
If you encounter or suspect mold growth in your property located in Clive, IA, contact ServiceMaster by Rice for our mold removal services. We can address cases of all sizes and will conduct testing to find hidden mold growth.
Call (515) 212-2511, where we can be reached on a 24/7 basis, to learn more about the mold removal services we provide.
---
Related Mold Removal Services
Mold Removal in Des Moines, IA
Mold Remediation in Cedar Rapids, IA
Mold Removal in Marion, IA
---
Recent Reviews
Click here for more reviews