ServiceMaster by Rice
Flood Damage Restoration Services for Clive, IA
Nearly every property, whether it be residential or commercial, has suffered water damage. However, every case of water damage is unique because of its source and the amount of harm done. Natural causes of water damage include humidity, flooding, and rain, but there are also unnatural causes of water damage like burst pipes or plumbing concerns. When water enters your home, most building materials will continuously absorb water because of their porous quality. Knowing this, it is urgent that you contact ServiceMaster by Rice for the water damage restoration services that we provide in Clive, IA. We employ professional technicians who will work to contain the damage and rid of excess water from the property, furnishings, and structural elements.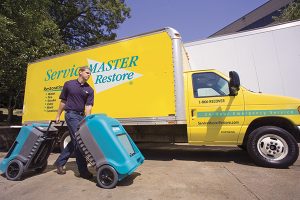 With more than 40 years of experience, ServiceMaster by Rice has helped homes and businesses in Clive, IA, with our expert water damage restoration services. To begin, we perform a quick assessment of the damage and use that to develop a plan for restoration. Our advanced drying equipment allows us to thoroughly eliminate water and moisture, and our moisture detection equipment allows us to find any concealed water damage. Our experienced technicians will conduct their work swiftly, finding an effective solution for your property's unique water damage issue. Furthermore, we limit the damage promptly to prevent the problem from worsening and save you money and time on restoration and repairs.
You Can Expect the Following from Our Water Damage Restoration Services:
Source Treatment: We begin our service by identifying the water or moisture source and fix this problem to prevent more damage from occurring. Afterwards, we evaluate the absorption levels with our moisture detection meters and probes.
Carpet Assessment: Your carpet can become severely damaged by excessive amounts of water. We will evaluate whether it can be salvaged and if we cannot salvage it, the carpeting is replaced.
Flooring Assessment: Hard surface floors can trap water and moisture, and this can lead to serious damage and/or mold growth. With moisture meters, we can figure out how much water the sub-floor has absorbed, which allows us to effectively dry it.
Cabinets, Ceilings, and Walls Assessment: Water and/or moisture can be hidden inside cabinets, ceilings, and walls, and this concealed harm can cause serious mold growth or structural damage. We will use our moisture meters to detect the amount of damage prior to removing sections of the ceiling or wall.
Structural Drying: When we have figured out the extent of the damage, we will proceed with the drying process. We use dehumidifiers and air movers to eliminate moisture and water from your home's furnishings and structural elements.
Because of how much water is absorbed by drywall, insulation, and wood, water damage can be deceiving. If you discover water damage in your Clive, IA-located business or home, contact ServiceMaster by Rice for our water damage restoration services. Our technicians are highly experienced and well equipped to eliminate excess moisture and water from residential and commercial properties.
We can be reached at (515) 212-2511 on a 24/7 basis for water damage restoration services in Clive, IA.
---
Related Water Damage Restoration Services
Water Damage Restoration in Des Moines, IA
Water Damage Removal in Cedar Rapids, IA
Water Damage Restoration in Marion, IA
---
Recent Reviews
Click here for more reviews