Nu-Gen Cleaning & Restoration
Determining how to react in the aftermath of a violent accident or crime scene is challenging. Especially when witnessing the crime or accident, it can be traumatizing and the presence of biohazards such as blood and bodily fluids make these situations very dangerous. It's essential to call the authorities as well as a team of licensed biohazard cleanup professionals to restore your property right away.
Nu-Gen Cleaning & Restoration is available in Elgin, IL and the surrounding areas to provide biohazard and crime scene cleanup services for homes and businesses recently affected by a violent accident or death. Our professionals use advanced chemical cleaners and equipment to safely and effectively remove the biohazards and disinfect the scene to restore safe living conditions.
Crime Scene Cleanup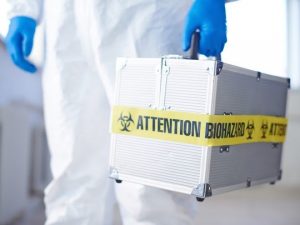 It can be traumatic to discover the scene of a crime or violent accident. But the blood, tissue, and other bodily fluids are filled with disease-causing agents that threaten illness to all exposed. Cleaning them yourself will only spread the risk of contracting sickness, and law enforcement does not have the necessary products to restore the property themselves. Therefore, it is your responsibility to have the area cleaned.
As soon as you call our professionals, we will be on our way with all equipment and products needed to remove the biohazards, including powerful disinfectants and products to restore safe and healthy living conditions. We also work with law enforcement during the crime scene cleaning to not disturb any evidence.
Our biohazard cleanup services include each of the following:
• Disinfection: All biohazards, blood, and bodily tissue are removed, followed by disinfection of the affected areas to restore clean and safe conditions.
• Proper Disposal: The biohazards will be taken to a licensed medical waste facility for proper disposal.
• Odor Removal: Advanced technology is used to remove lingering odors from the biohazards.
• Continuous Monitoring: Our professionals ensure to work efficiently to avoid disrupting family activities. We will also arrive in unmarked vehicles to protect your property.
• Family Support and Assistance: With years of experience, we know that this can be a very traumatic time for families, which is why we take a compassionate approach. We can also provide a list of contact information for local family counselors, if needed.
• Certified Technicians: When working with Nu-Gen Cleaning & Restoration, you can trust that our professionals are experienced and trained to effectively restore your property to a clean and healthy environment.
Trauma Cleanup
Finding the scene of a violent crime or accident can be devastating, but for the sake of your safety, don't hesitate to call the authorities and our professionals for biohazard cleanup services. We are available 24/7 and will arrive within 2 hours of your first call.
Contact Us
Nu-Gen Cleaning & Restoration is available 24/7 at (815) 733-9123 to provide biohazard cleanup services in Elgin, IL and the surrounding areas.
---
Related Biohazard Cleanup Services
Biohazard Cleaning in Crystal Lake, IL
Trauma Scene Cleanup in Cary, IL