RestorationMaster disaster professionals take pride in serving the North Shore and Northwest suburbs of the city of Chicago and are recognized as a leader in the disaster restoration industry because of their expertise in commercial and residential restoration cleaning.
At RestorationMaster we remain committed to the pursuit of excellence, providing state of the art technology, equipment and trained, certified staff when addressing any of your cleaning or restoration needs in Palatine, IL area.
Water damage happens quite often as there are several potential causes including weather issues such as rain and flooding as well as internal problems such as leaks and burst pipes.  Regardless of the size of the problem, water damage should be dealt with immediately because it can spread through absorbent building materials like wood and drywall and cause serious structural damage or mold growth.  RestorationMaster provides water damage restoration services to remove excess water from homes and businesses in Palatine, IL and restore the resulting damage.  We use the most advanced drying equipment of the industry to effectively remove water from the furnishings and structural elements in your home.
Nobody wants to deal with flooding in their home or business because it creates a huge mess and causes widespread damage to the furnishings and structural elements.  All homes and businesses are at risk for indoor flooding because it can be caused by plumbing leaks, burst pipes, and overflows as well as heavy rains and natural floods.  Once you notice flooding in your home, you must act quickly to prevent the water from spreading further and causing more damage or mold growth.  RestorationMaster provides flood damage restoration services to clean up and restore flood damaged homes and businesses in Palatine, IL.  Our advanced water extraction and drying equipment not only allows us to remove the flood water, but also dry out furnishings and other materials to prevent further damage.
Fires are always very dangerous because they can seriously threaten the safety of those in the home or building and they also cause pervasive damage in a very short period of time.  As soon as you have confirmed that everyone has safely evacuated, you should call for fire damage restoration to prevent the damage from spreading or becoming permanent.  RestorationMaster provides fire damage restoration services in Palatine, IL to clean up and restore homes and buildings that have sustained fire damage.  We have the training and equipment to handle large losses from fires and we can clean up soot damage to prevent permanent etching to a variety of household surfaces.
Mold is almost always a threat to appear in a home or building because mold spores are a constant presence in the natural environment and it only takes the right conditions for mold to form.  The spores only need moisture and an organic food source which makes mold growth more likely after sustaining water damage and it will continue to spread through the building until it is removed.  RestorationMaster provides mold remediation services to remove mold and restore the resulting damage for homes and businesses in Palatine, IL.  Our technicians use the best cleaning equipment and testing equipment in the industry to locate hidden mold and ensure that all mold growth is completely removed.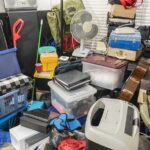 Hoarding is a complex disorder that is a symptom of larger anxiety issues and the most common behavior associated with hoarding is the extreme collecting of all objects along with an inability to throw anything away.  Over time, the collection of hoarded items will grow large enough to create hazardous living conditions inside a home and harbor mold and bacteria that can cause adverse health reactions.  RestorationMaster provides hoarding cleaning services in Palatine, IL to thoroughly remove unwanted hoarded items and clean and restore the home and any remaining objects.  We take a respectful approach to hoarding cleaning projects that includes establishing mutual trust and respect with the affected individual and we will make sure the home is restored to safe and sanitary living conditions.
Few furnishings in a home or office experience as much use as the carpeting as daily foot traffic puts constant wear and tear on the carpet and causes dirt and debris to attach to the fibers.  The dirt and debris can make the carpet appear worn out or dirty over time and it cannot be removed effectively with a vacuum.  RestorationMaster provides professional carpet cleaning services for homes and businesses in Palatine, IL to clean and restore all types of carpeting.  We use advanced equipment that can effectively remove embedded debris from deep in the carpet fibers to improve its appearance and longevity.
The furniture in a home or office has a direct effect on the look and comfort of the space and repeated daily use causes dirt and debris to become embedded in the upholstery which will make it look dirty or worn out.  Certain debris such as sand and dirt can be abrasive against the fabric with direct contact which can cause the upholstery to deteriorate even faster.  RestorationMaster provides upholstery cleaning services in Palatine, IL to remove embedded debris from the upholstery fabric.  We use advanced equipment and cleaning products to fully clean and restore any type of upholstery fabric.
When you move from one home or office to another, it is nice to move into a clean environment as well as leave your old home or office clean for the next tenants.  In the work and excitement of moving, it is easy to skip this step once you are ready to leave for your new space.  RestorationMaster provides move in move out cleaning services to thoroughly clean homes and offices between inhabitants.  We have the right cleaning equipment and products to clean homes and commercial spaces from top to bottom.
Tile and grout is the best option for flooring and other surfaces in kitchens and bathrooms because they are moisture resistant.  Tiles come in many styles and colors to create unique looks but over time, their look can become diminished as dirt and mildew stick to the tile surfaces and gather in the grout lines.  RestorationMaster provides tile and grout cleaning services for homeowners in Palatine, IL to clean and restore the look of your tile and grout.  We use advanced cleaning equipment that effectively removes embedded dirt and mildew and we can also treat stains.
Choose RestorationMaster for all your restoration needs:
RestorationMaster covered areas: