What is Fire Damage Restoration?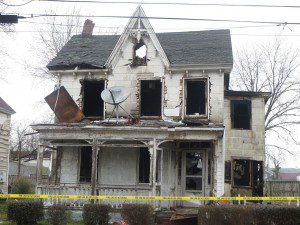 A fire in a home or business is an absolute nightmare to deal with because the damage is extensive and extremely disruptive to your life.  You may feel a sense of relief once the fire is put out and everyone is safe, but the damage is only beginning.  Fires create corrosive byproducts when they burn synthetic materials and these byproducts, along with soot and smoke, cause considerable damage to surfaces and furnishings.  This damage often spreads into areas that the fire itself did not reach, which is why you must begin the fire damage restoration as soon as the fire department clears your property.
Hopefully you have not had to deal with significant fire damage in your home so you may be wondering, what is fire damage restoration?  Fire damage restoration is the process in which damage caused by a fire, smoke, and corrosive byproducts is repaired and restored.  This process includes removing corrosion from surfaces and furnishings caused by soot and other byproducts as well as odors from smoke.  Fire damage restoration is a complex process that consists of the following steps:
Inspecting the Damage
Fire damage restoration professionals start by thoroughly assessing the property to take note of the damage caused by fire, smoke, and soot.  They also look for any water damage that occurs when the fire is extinguished.  Once the technicians fully assess the damage, they begin the restoration process.
Content Cleaning and Removal
Items that have been damaged such as furniture, appliances, and personal belongings will be removed from the home.  The technicians can help determine if a particular object can be saved or if it has been damaged beyond repair.  Any items that can be saved are packed out and taken to an off-site facility where they can be thoroughly cleaned and restored.
Property Stabilization
A house fire causes significant damage to the structural core and roof of a home, which leaves it unstable and vulnerable to further damage from the weather or vandalism.  Fire damage restoration professionals can secure your home with roof tarping and board up services to ensure that it is stabilized during the restoration process.
Water Damage Restoration and Drying
After securing the property, water damage cleanup specialists remove water from putting out the fire and restore any resulting damage.  They then dry the affected areas using drying and dehumidification equipment to prevent mold growth and other issues.
Soot and Smoke Damage Restoration
In this stage of the restoration, the technicians remove tarnishing caused by soot and corrosive byproducts using powerful cleaning products.  They can remove soot from the walls, ceiling, countertops, and other surfaces and objects throughout your home.  Smoke odor removal is also part of this stage as the technicians will use advanced equipment such as hydroxyl technology and ozone generators to remove the odor.
Thorough Cleaning and Disinfection
Once the majority of the damage from the water, fire, and soot is taken care of, fire damage technicians will completely clean and disinfect your entire home.  The cleaning includes structural elements, furnishings, appliances, and other items covered in dust, debris, or residue.
Final Restoration
The last stage of the fire damage restoration process involves repair work to get your home back to its original condition.  This includes reconstruction of damaged structural elements, remodeling, painting, and installation of new drywall, flooring, or carpeting.  Some fire damage restoration companies offer full reconstruction services while others may only do certain repairs and refer you to another professional better suited to handle the repairs.
If your home is ever damaged by a fire, remember to start the fire damage restoration process as soon as the fire department will allow it.  Fire damage repair professionals that are IICRC certified can effectively restore your home and salvage objects affected by the fire or soot.  The process described above has been proven to get your home back to its original condition after sustaining damage in a fire.