RestorationMaster
Fires can be one of the most devastating natural disasters; within a few seconds, a spark turns into a flame that spreads throughout the property, consuming everything in its path. While it can seem traumatic to watch this, immediate action must be taken to prevent the fire from swallowing everything.
First, evacuate everyone from the building immediately; don't stop to gather items or try to fight the fire yourself. Call 911 from a nearby location after everyone is safely outside. There's an understandable sense of relief when the fire is finally out, but the building and its contents are still under attack from secondary damaging elements like smoke, soot, water, and even the chemicals used to extinguish the fire.
In situations such as these, call RestorationMaster for emergency fire damage restoration services in the Fort Wayne, IN area. The clock is ticking, which is why our technicians will arrive on the scene quickly to prevent the spread of the damage while cleaning, restoring, and rebuilding the structure before it's too late. We will also work with your insurance company, so you can put the claims process behind you as soon as possible.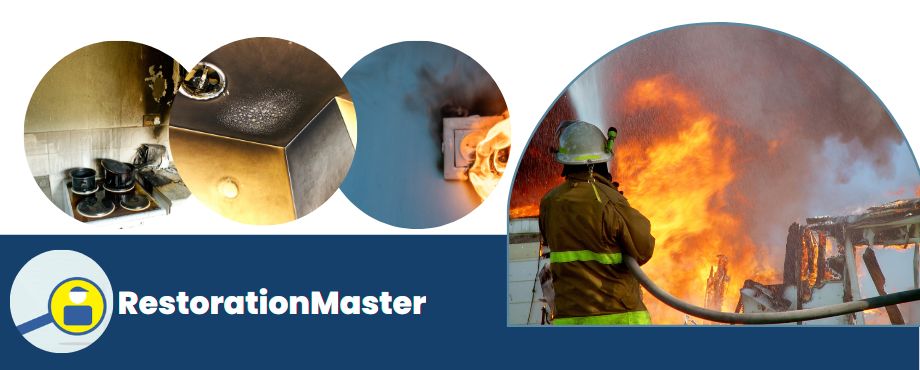 Fire Damage Restoration in Fort Wayne, IN

Fires cause a great deal of initial damage from the flames, but most people don't realize that secondary damage occurs from other sources like soot, smoke, and toxins released by burning synthetics. These fumes etch common household surfaces like chrome, marble, and porcelain, and the damage will be irreversible in a short time.
Smoke not only lingers in the air, but it gets into porous surfaces like textiles and woodwork, where it won't come out easily. It can even affect other areas that the fire didn't, seeping through walls, floors, and ceilings.
But RestorationMaster has trained technicians to restore a wide variety of contents, furnishings, and building materials after a fire occurs. This is why it's important to avoid discarding items until after we've appraised them.
Our fire damage cleanup services include all of the following:
Emergency precleaning of affected items
Odor removal from porous surfaces and ducts
Wall and ceiling cleaning
Smoke Mitigation – What to Do:
Call RestorationMaster for fire damage restoration as soon as the flames are extinguished.
As soon as the fire department gives the "all clear," arrange for fire and smoke damage restoration. The longer you wait, the greater the chance any damage will become permanent.
Set aside items that are the highest priority for restoration. This should include electronics, computers, important documents, and other fragile items.
If the outside temperatures are over 60 degrees, open doors, and windows to let in the fresh air.
Throw away items in the refrigerator and any open items in kitchen cupboards.
Wipe soot from chrome, porcelain, Formica, and aluminum surfaces so they won't tarnish.
Change the air filter on the HVAC system and tape a double layer of damp cheesecloth over supply and return vents to prevent soot and particles from being circulated through the building.
Smoke Damage Cleanup – What NOT to Do:
Don't touch porous surfaces like wood, drywall, or upholstery with your bare hands. The oils on your hands may cause further damage.
Don't use electrical appliances or ceiling fixtures that have gotten wet until an electrician has checked them.
Don't try to remove soot damage yourself. Without the right products and training, you can make things worse.
Don't throw away any items, not matter how hopeless they look, until a restoration expert has examined them. We have experience and training on restoring all types of content.
Free Estimate Fire Restoration in Fort Wayne, IN
If your home or business in the Fort Wayne area experiences a fire, it's crucial to call RestorationMaster as soon as possible. We're available day or night to restore building materials and contents affected by smoke and soot residue. Using commercial products and equipment, you can expect your property to be returned to its pre-loss condition in a timely manner.
We are available 24 hours a day, 7 days a week, at (260) 306-8828 for emergency fire and smoke damage restoration.
Free Estimate
---
Related Fire Damage Restoration Services: