ServiceMaster by Restoration Contractors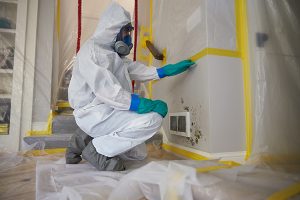 Mold is a complicated problem because it can grow in hidden places and cause severe property damage and health issues.  Mold growth often occurs when there is water damage or excess moisture in a home or building and it finds food in common building materials like wood and drywall.  It is important to remove mold right away because it can cause severe structural damage to the affected surfaces.  Any hesitation to address the mold will also give it more time to spread.
ServiceMaster by Restoration Contractors provides mold remediation services to thoroughly remove mold growth from homes and businesses in Fort Wayne, IN.  We have the resources to test for hidden mold and we can restore or replace the surfaces damaged by the mold.
Mold Remediation in Fort Wayne, IN
The appearance of mold in your home or building can happen at any time because mold spores are always naturally present in the air.  Once they find an environment with a moisture source such as water damage, they latch onto surfaces that contain cellulose like wood, drywall, carpeting, and insulation.
As the mold slowly eats away at the affected surfaces, the damage will get worse until it becomes unsalvageable.
Mold is likely to spread to new areas of the building by dispersing its spores.  Exposure to the spores is also what triggers allergic reactions and other health issues related to mold.
Mold Removal in Fort Wayne, IN
Taking action as soon as you find mold growth in your home or building will help prevent serious damage and possible health issues.
At ServiceMaster by Restoration Contractors, we can find all mold growth in the building and remove it with our advanced methods and equipment.  We work with nationally recognized testing facilities that can accurately test for hidden mold to ensure that none of it is left behind.
The mold remediation process will generally include these steps:
Assessment of the damage and testing to locate all mold
Report of our initial inspection to your insurance company
Containment of the mold growth to prevent its spread
Creation of a mold remediation plan
Complete removal of the mold growth and restoration of the damaged areas.
Free Estimate Mold Remediation in Fort Wayne, IN
Any amount of mold growth must be addressed immediately because it can spread quickly and greatly increase the risk of serious structural damage and health problems.
If your home or business in Fort Wayne, IN is affected, contact ServiceMaster by Restoration Contractors for professional mold remediation.  You can reach us 24 hours a day at (260) 918-9662 for emergency response.
---
Related Mold Remediation Services: