Dealing with Fire and Smoke Damage | FAQ
Think about the most important personal belonging in your home right now. Is it something from your childhood? Perhaps a family heirloom? Maybe it is something impossible to replace because it is rare or one of a kind. Now ask yourself, would you be able to save this item from a fire in your home?
Fire Damage
Here are 5 ways to protect your possessions and your home from fire damage, courtesy of the Home Safety Council:
Blow out candles before leaving any room. It may look nice or save electricity to have candles burning all around your home, but it could lead to a disaster if left burning close to something flammable.
Learn how to extinguish a small pan fire. If you are cooking and your pan catches fire, be sure you know how to eliminate a grease fire and use the back burners with the pan handles turned toward the back of the stove.
As you get close to the holiday season, be sure that your Christmas tree is at least 3 feet away from all power and heat sources and replace all light strings that show any signs of damage or are missing bulbs.
Don't install smoke alarms near windows, doors, or ducts. They will not work properly in these places. Ceiling-mounted alarms should be installed at least four inches away from the nearest wall. Wall-mounted alarms should be installed four to 12 inches away from the ceiling.
Keep plenty of space around your space heater and make sure it has been tested for safety. Look on the bottom for a label such as ETL, UL or CSA.
Understand the fire damage chemistry
In a complex fire (where plastics are burned), the acid gasses combine with heat and water vapor and penetrate cracked and crevices.
When the surfaces cool, the gasses form highly corrosive solutions. These solutions can permanently etch and stain many sensitive surfaces including machinery, and tools, precision instruments, and household appliances, plus marble, glass and aluminum surfaces.  In addition, salts are produced when acids mix with metal and can cause further damage to a metal surface, like the corrosion on cars from salt snow and ice treatments. Fast and proper fire damage restoration service is highly recommended.
Another common product of fire is soot, which is comprised of carbon and other materials, that are completely burned or oxidized.  Some soot particles are dry and can be vacuumed effectively, but most are combined with grease and oils and cannot be vacuumed.  These situations require and alkaline solution that reacts with the oil or grease and release particles, creating a water soluble product that can be washed away with water.
Other soot deposits, depending on their chemical make-up and the surface on which they rest, may demand physical removal with a putty knife or similar instrument.
Even though the chemistry of fires may vary, the most important thing is to dry out the area as soon as possible to avoid further damage caused by acids and contaminants.  A careful consideration of the materials and surfaces affected will then provide and understanding of the fire's chemistry and allow for a targeted and informed restoration effort.
What should you do in case of fire damage?
First, contact your insurance agent to see if any of your damage can be covered under your policy. Second, contact a professional fire damage restoration service to determine if it is possible to repair any fire damage to your home.
RestorationMasterFinder.com is a great resource for reputable fire damage cleanup experts in your area! Simply visit the website, select your state from the menu and click on the featured service provider closest to your home.
---
---
Smoke Damage
If you are planning on selling your home, it is really important to remove any past evidence of smoke damage. Cleaning smoke damage is not an easy task, but it can be completed successfully if you keep the following tips in mind:
How to remove smoke damage tips:
Cover carpeted areas with towels or old linens to prevent additional soiling.
Discard open food packages. The food could be contaminated.
Tape cheesecloth over intake and outlet air vents to capture any loose soot in the air. This is even more effective if the cheesecloth is damp.
Clean Formica and chrome fixtures in the kitchen and bathroom to prevent permanent tarnishing.
Blow off or brush-vacuum loose soot particles from upholstery, drapes and carpets.
Wipe residue from porcelain bath fixtures to prevent etching.
Change the air filter on your furnace if it uses forced hot air.
If the outside temperature is above 60 F, air out the house to reduce smoke odor.
Common smoke removal mistakes:
Wash any papered or flat painted walls without consulting your professional cleaner. Incorrect cleaning procedures could complicate the soot residue problem.
Clean carpets or upholstered furniture.
Use electrical appliances that have been close to fire or water before having them checked. They could malfunction.
Use ceiling fixtures if the ceiling is wet. A short circuit could result.
Touch anything. Soot on your hands can permeate upholstery, walls and woodwork, causing further damage.
Wait to call for professional help.
Smoke damage cleaning services
RestorationMasterFinder.com is a great resource for professional smoke damage cleaning services in your area! Simply select your state from the menu and click on the featured service provider closest to your home. For complete smoke cleaning services, contact your local RestorationMaster specialist listed on our website.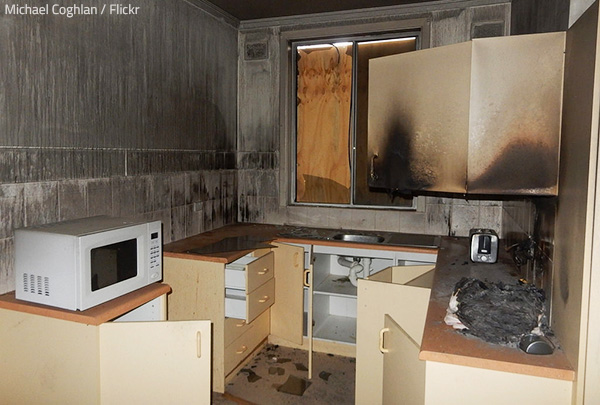 Fire Damage FAQ
How long will the fire restoration process take?
Because there are many variables and many services involved in fire and smoke restoration, it is difficult to predict exactly how long the complete restoration will take. Consult with your local RestorationMaster provider on the estimated dates and phases of your restoration project.

Can I clean the fire damage myself?
We suggest that you do not attempt any "do-it-yourself" cleaning methods without consulting your local RestorationMaster provider. Professional cleaning systems and products used by experienced, trained technicians give you the best chance for complete restoration of your belongings. Pre-testing, using the right cleaning agent for the particular item, mixing deodorizing agents with cleaning solutions and using correct dilution rates are just some of the ways a fire restoration technician expertly controls the results.

What are some safety concerns?
Occupant and worker safety should be top priority. During the initial inspection, safety hazards are identified and addressed, including debris removal, air quality, electrical hazards, slip and trip hazards, etc. Burnt electrical cords and appliances are separate out for disposal, and questionable electrical appliances are unplugged and tagged for evaluation of safe operation.
Electrical power may be turned off and kept off until evaluation by a licensed electrician.

Can I turn on my heating and air conditioning unit?
We recommend NOT to turn on your furnace or air conditioning unit without clearance from the HVAC contractor.

What items do I keep in my possession?
Cash, Medications, Valuable Jewelry, Checkbooks, Personal Documents, Valuable Paintings, Flammables, Pet, Weapons/Ammunition, Gasoline, Cans, Stamp/Coin Collections etc.
How do I keep track of non-restorable items?
We recommend you make a list of items (including food items) deemed non-restorable. Use a format like the sample below, or obtain a similar form from your insurance company. Make a copy for your insurance company and keep one for yourself.

Do I need to move out of my property during the fire restoration process?
This is ultimately your decision. Some things you may want to consider are safety concerns, odors, electricity, noise from equipment, etc. If vacating your premises for any length of time, consider the following: forward your mail to your temporary residence; stop newspaper and other deliveries; notify utility company, Cable Company, etc. of temporary suspension of services.

Do I need general contractors?
There are some items that may require general contractors, such as drywall/painting, electrical, plumbing, roofing, framing/finish carpentry, flooring/carpet, installation of doors, windows, cabinets, post construction clean up etc.
Do my belongings need to be moved away from the premises?
Depending on the source, nature and extent of the fire, it may be best to remove all belongings to a secure facility for cleaning, storage and to make room for restoration or construction. Your local RestorationMaster provider will work with you and your insurance claim representative to manage this process.
Will I have access to my belongings while they are in storage?
Yes, with advance notice we can schedule time for you to access your requested items.

What about special items? Artwork, china, heirlooms, etc.
Some high value items require restoration by specialist. Working with your insurance claim representative, we can help you identify these and locate a qualified restorer.

Who is responsible to pay for the restoration services?
Ultimately you, the property owner, are responsible for payment and will need to sign a form authorizing repairs and payment for the restoration services. If this is an insurance claim, your local RestorationMaster provider generally collects the deductible (co-payment) amount from you and bills the balance to your insurance provider as a service to you. If you have a large loss, your mortgage company may be included as a payee on the payment from your insurance company, and you may need to obtain a signature from them as well. If your claim is not covered by the insurance or you decide not to file a claim, you will be expected to pay in full.