ServiceMaster Restoration and Cleaning
Serving the greater Houston area since 1992
When a fire occurs, the damage caused by the fire is the most obvious, but the damage caused by the resulting smoke and corrosive byproducts can be more extensive.  Smoke, soot, and other corrosive elements often spread further than the reach of the fire and they will continue to cause damage after the fire is out.  There doesn't even have to be a fire for smoke to cause surface damage or odors in your home as candles, cooking, smoking, and other activities can lead to smoke damage.
Smoke and soot damage needs to be cleaned up immediately because the affected materials can quickly become permanently damaged.  ServiceMaster Restoration & Cleaning provides smoke damage and odor removal services for homes and businesses in Houston, TX.  We use advanced cleaning products and equipment to restore materials damaged by smoke and soot and remove lingering smoke odors.
Smoke and Soot Damage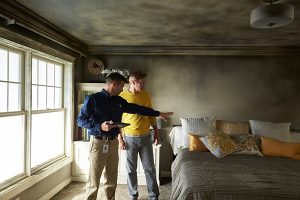 Smoke and soot are corrosive byproducts of a fire that are acidic in nature.  Both smoke and soot are still present after a fire has been extinguished and they won't stop spreading and causing damage until it has been cleared from the property.  Soot can settle on surfaces and objects throughout the home and cause tarnishing and etching while oily smoke residue can seriously damage most objects and building materials.  Our technicians use special cleaning agents to remove soot and smoke residue from damaged building materials, furnishings, and other affected objects.  Our powerful cleaning products will completely reverse the effects of these corrosive byproducts if the restoration process begins soon enough.
Smoke Odor Removal
Smoke not only causes physical damage with soot and residue, it also causes unpleasant odors to linger on your property.  The odors can be very pervasive because they get absorbed and trapped in porous materials and they are very difficult to remove.  Our technicians can effectively remove smoke odors from the air space and affected materials using advanced deodorization methods such as thermal fogging and hydroxyl deodorization.  We will completely remove smoke odors with the following steps:
Location and treatment of the odor source
Treatment of affected materials
Air washing and treatment of air spaces
Sealing of porous surfaces
If your property is affected by smoke damage or unpleasant odors, contact ServiceMaster Restoration & Cleaning to take care of the damage and deodorize your property.  Our technicians know how to remove soot and smoke damage from just about any household surface and we use proven methods to ensure that your property is odor free.  You can reach us 24 hours a day at (281) 668-5912 for smoke and odor mitigation in Houston, TX area.
---
Related Services:
Smoke Cleanup and Fire Damage Restoration – Woodlands TX
Fire and Smoke Damage Restoration – Humble, TX
Fire and Smoke Damage Cleanup – Fall Creek, TX
Smoke & Fire Damage Restoration – Houston TX
Fire Restoration Services – Kingwood, TX
Smoke Damage and Odor Removal – Kingwood, TX