Zenith Disaster Clean Up

Serving Houston and Harris County, TX
Mold damage often occurs because of water or moisture problems.  Damp, moist areas are frequently popular places for mold growth.  Here, at your local Zenith Disaster Clean Up partner, Houston, TX we understand the severity of mold growth and the need for it to be removed quickly. Because mold can cause serious health problems, cleaning and disinfecting mold is vitally important.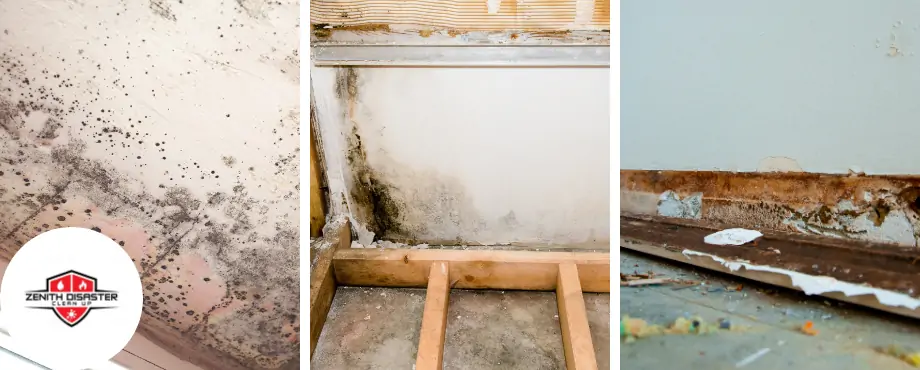 Professional Mold Remediation Services
Although mold can grow almost anywhere, it grows best in damp, warm conditions. Molds spread and reproduce by making spores, which are small and lightweight. They are able to travel through air, can resist dry, adverse environmental conditions, and are capable of surviving a long time.
People are exposed to mold through skin contact, inhalation, or ingestion, which may cause mild to severe allergic reactions, depending on a person's sensitivity. Living under conditions where high mold levels are present can be dangerous. Not only can mold cause adverse health effects but left unattended, it will continuously grow and can damage and destroy whatever material it comes into contact with.
Here at your local Zenith Disaster Clean Up partner, Houston, our technicians are state-licensed mold remediation contractors and state-registered mold workers on all mold remediation projects to ensure that our customers are properly treated.
Our first choice with mold, however, is to prevent it from occurring by using state-of-the-art drying techniques and certified Water Damage Restoration Technicians.
Our expert mold remediation services include:
Full inspection and moisture assessment
Removal of moldy materials and contents
Air quality control and cleaning
Sanitization and anti-microbial application
Temporary storage and inventory for damaged contents
Mold and mildew are very hazardous problems to have in any commercial or residential property.
If you experience a mold problem call your local Zenith Disaster Clean Up partner at (713) 966-6064. Serving Houston, and Harris County, TX.
---
Answers to Your Top Mold Questions
Q: How can I tell if I have mold?
A: If you see mold growth or water stains, a mold test can help identify related microbial activity. You can also look for areas where water leakage has occurred, such as roofs, pipes, ceilings or walls. Musty smells may also indicate the presence of mold.
Q: When does mold need to be handled by a professional remediation company?
A: Most experts recommend a professional remediation company when elevated mold levels are detected. Remediation professionals are specially trained to isolate and treat mold-affected areas to avoid contaminating adjacent spaces.
Q: What can I do to prevent the growth of mold in my home?
A: The most effective ways to keep mold in check include keeping the humidity level of your home at 40-60 percent, using an air conditioner and/or dehumidifier during humid months and in damp spaces like basements, and always utilizing exhaust fans in bathrooms and kitchens, along with dryer vents outside your home. Lastly, if there are leaks in your roof, walls or plumbing, it is important to repair them as soon as possible.
Call us for Mold Remediation in Houston, TX
Mold can start to grow in as little as 48 hours, so it's important to act fast after water damage to help prevent mold from growing and spreading.
If you experience a mold problem call your local Zenith Disaster Clean Up partner at (713) 966-6064. Serving Houston, Summerwood, New Caney, and Harris County, TX.
---
Related Services:
Mold Removal and Remediation – Kingwood, TX
Mold Removal and Remediation Services – Woodlands TX
Mold Remediation Services – Fall Creek, TX
Mold Removal Services – Humble, TX
---
Recent Reviews
Review by Ehidiamen Ojiemudia
Rating

"Woke up 2am in the morning discovered my toilet had backed up and flooded the house, Every where looked a mess, Called my insurance company and they recommended these guys to come check it, They where very responsive and on time and cleaned up the water damage. I would solely use them in the future if needed."
---
Review by Windy Charles
Rating

"Recommended company by my brother,good job on the water damage clean up.never experienced a flood before.u guys did great no complaints."
---
Review by Victoria Valenti
Rating

"Came home from work after a pipe had behind my toilet causing water to run through my home for 8 hours everything was wet and damaged, this company made this an easy and much less painful process."
---
See All Reviews