ServiceMaster Restoration And Cleaning
Serving Humble and Fall Creek, TX area since 1992
Mold is a very common invader of homes and buildings and its presence can lead to serious issues, even if it only appears to be a small amount.  The most common reason that mold appears indoors is because of water damage or a moisture issue.  Mold spores thrive with a moisture source and attach themselves to building materials like wood and drywall that contain organic food sources.  The damage that mold causes to affected surfaces will get much worse over time and the possibility of experiencing negative health effects will also increase until the mold is removed.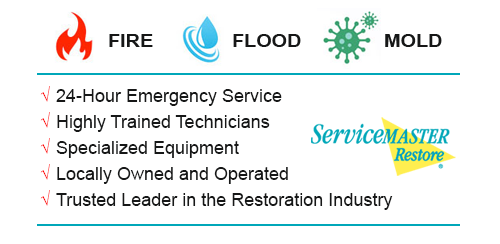 At ServiceMaster Restoration & Cleaning, we can remove mold growth from homes and commercial buildings in Fall Creek and Humble, TX with our mold remediation services.  Our technicians have the training and equipment to remove mold effectively and either replace or repair the damaged materials.  We are also licensed by the State of Texas as a mold remediation service provider.
Licensed Mold Removal
In the state of Texas, mold remediation service providers must be licensed under the requirements of House Bill 329 which was passed into law in 2003.  Under this law, the Texas Department of State Health Services (DSHS) has the authority regulate and issue licenses within the mold remediation industry.  The purpose of this bill is to prevent unethical practices by companies posing as mold remediation specialists and taking advantage of homeowners.  ServiceMaster Restoration & Cleaning is a licensed mold remediation professional under the terms of House Bill 329 and we guarantee that our services will always meet the standards of this bill.
Damage from Mold

Mold growth can cause very serious damage depending on the extent and duration of the growth.  Once mold growth takes hold, it begins feeding on the affected surfaces, resulting in discoloration, surface damage, and eventually structural damage.  The mold growth will spread over the affected surfaces in time and they can also release their spores to spread to other areas of the property.  Hidden mold is especially dangerous because it has usually already caused serious damage once it is discovered.  Visible mold growth that you find could be a small part of a bigger, hidden problem.
The other major issue with mold growth is the health effects from mold exposure.  Those exposed to mold may experience skin irritation, nasal congestion, itchy eyes or throat, coughing, headaches, and other allergic reactions.  Exposure over a long period of time can cause more serious problems like asthma and respiratory infections.
Mold Remediation Process
It is very important for your safety to call our licensed professionals to remove mold from your property.  We will properly assess the extent of the mold problem and uncover all hidden mold growth.  We will then form a remediation plan to ensure that all mold growth is removed and that the affected materials are either removed or restored.  As we work, we will keep the affected areas isolated to prevent the mold from spreading to new areas.
Our mold removal services consist of the following steps:
Complete assessment of the mold growth, including the location of hidden mold
Restoration of affected surfaces and objects
Removal of permanently damaged materials
Air quality control and cleaning
Disinfection and anti-microbial application
Final inspection by a state licensed Mold Assessment Consultant (MAC)
Reacting to mold growth on your property immediately will help you prevent more serious property damage and avoid common health issues from exposure.  You must contact our licensed professionals at ServiceMaster Restoration & Cleaning right away to remove mold from your property with our advanced techniques and equipment.  You can call us any time at (281) 668-5912 for more about our mold remediation services.
---
Related Services:
Mold Removal and Remediation – Kingwood, TX
Mold Removal and Remediation Services – Woodlands TX
Mold Remediation Services – Summerwood, TX
Mold Removal Services – Houston, TX
April 12, 2019
The service I received was outstanding. I called the main number and was told a local representative would call me back. Less than 15 minutes later, I received a call from my local branch and was told a technician would be at my home that afternoon. The technician called to tell me when he would arrive and he arrived promptly at that time. From the time I called to the time a technician was in my home, it was less than 2 hours. The technician was professional, efficient and explained my options thoroughly. He completed the work independently and efficiently and informed me when he would return. I was extremely pleased with the service.