RestorationMaster, The Woodlands TX
Mold growth can appear in your home or building just about any time and it is typically caused by excess water or moisture because it needs a moisture source to grow.  It is important to have mold removed quickly because it will not only spread quickly through your home to increase the amount of damage, but also significantly raise the risks of associated health issues such as allergies or respiratory problems.  Your local RestorationMaster partner provides mold remediation services in The Woodlands, TX to clean up and remove mold from homes and commercial buildings.
Commercial and Residential Mold Remediation
Mold spores will become mold growth upon meeting the right conditions which includes a moisture source and an organic food source such as cellulose found in wood and drywall.  Once mold starts growing, it is constantly at risk to spread and if it is not removed quickly enough, it can eventually cause irreversible damage to the affected surfaces.  Our technicians can safely and effectively remove all mold growth with our advanced cleaning products and equipment.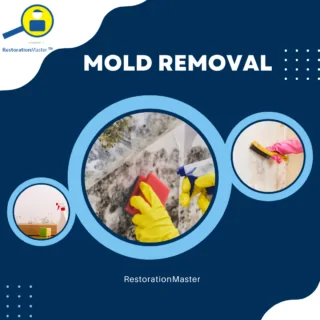 The mold remediation services we provide include the following steps:
Complete assessment of the mold and moisture level
Cleaning and temporary storage for affected personal content
Complete removal of moldy surfaces and content
Air quality control and cleaning
Anti-microbial application and sanitization
Clearance of the mold remediation process
Call RestorationMaster
You should not hesitate to react to mold growth in your home or building because the longer it is ignored, the more you are at risk for significant structural damage or health problems.  Call your local RestorationMaster partner right away if you need mold remediation services for your home or office in The Woodlands, TX 77375 area.  You can reach us 24 hours a day at (281) 612-8739 to respond to your mold problem.
---
Related Services:
Mold Removal and Remediation – Kingwood, TX
Mold Remediation – Houston, Texas
Mold Remediation Services – Fall Creek,TX
Mold Removal Services – Humble, TX