Southern Home Winterization Tips
When a northerner thinks of the southern region of the US, which consists of Louisiana, Arkansas, Texas, Mississippi and Oklahoma, balmy temperatures and mild winters come to mind. In reality, as any southerner can attest, southern winters can bring snowfall and 40-degree temperatures. The south sees a lot less freezing temps than the northern states. However, it is just as important for homeowners in the south to prepare for winter's avalanche of arctic chills.
Homeowners who maintain their homes, no matter in what region they reside, protect their residence from structural damage, save on energy bills and ensure that the important systems within their home remain functional. These southern winterization tips will keep your home sound and comfy in the winter.
Inspect the Heater
The southern regions often see a predominance of electric versus gas heaters (which are commonly found in the north). Schedule an inspection of your home's HVAC system. Regular checkups include services such as ensuring all electrical connections are secure, lubrication of moving parts and an examination of the condensate drain. Gas heaters, if your home features one, should also be promptly inspected. Commonly, gas heaters are inspected for a proper gas connection, burner ignition and heat exchanger.
Furnace filters should be changed monthly, especially if you notice that they are ridden with dirt. A vacuum cleaner brush is handy when it comes to suctioning out the dirt and debris from return ducts and floor grates.
Clean the Gutter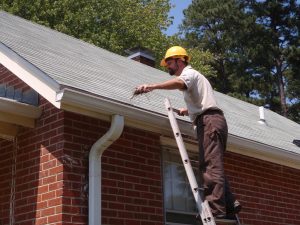 Ice dams are not seen too often in the south. Nevertheless, gutters require regular cleanings to prevent natural debris from clogging the gutters and downspouts. A gutter cluttered with twigs, leaves, or other debris can divert water to the edges of your home's roof or siding, which can quickly decline into an unpleasant scenario of mold and rotted shingles. Hop onto a ladder and clean out your gutters, ideally in late fall, when the trees have shed their leaves.
Clear Off the Lawn
Summer lends lazy days and noontime lunches on a sun-drenched patio. When winter sneaks around the corner, it's time to put away the patio furniture and anything else that winter weather can ruin, like hoses, nozzles and gardening tools.
Equally important is to maintain the lawn mower. Experts recommend running the lawn mower until the gas tank is empty. A near-full gas tank allows condensation, and in turn rust, to form, thereby potentially clogging the fuel lines. Plus, any gas left in the tank over winter can mingle with the air inside and oxidize, affecting the mower's performance come spring. If emptying the tank is next to impossible, you can always mix a stabilizer into the last gallon of gas in the tank.
Trim Trees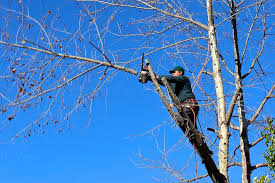 Just as homeowners do in the north, homeowners in the south should take care to annually trim the trees. Broken branches, low-hanging stems and decayed trees can be a potential safety hazard. A fallen branch can easily damage the roof of your home or its siding. A storm can ravage the weak branches, leaving them to plunge onto the roof or gutter below. Precautions are well worth the investment. Trim all trees prior to winter, ideally leaving a space large enough between your home and the greenery to walk through.
In addition to preventing roof damage, trimmed trees keep small animals from using the branches looming above your roof as an entryway into your attic. Keep pests out by regularly pruning the greenery surrounding your home.
Paint to Seal
Experts suggest painting your home's exterior during the fall months. Coats of paint seal all surfaces, preventing winter moisture from seeping inside and causing a wave of steady destruction. Pay close attention to crumbled caulk and loose siding, both of which allow moisture to become trapped within. Not only will your home's exterior be sealed off from winter weather, but you'll add a lustrous finish to your home's outside.
Replace Weather-Stripping
Weather-stripping is inexpensive to purchase, and any homeowner can apply it with ease. Remove any old, deteriorating weather-stripping from the exterior of doors and windows, cleaning out all scraps as you go. Install new foam weather-stripping. Be careful to avoid stretching the weather-stripping, which can weaken its efficacy. Homeowners should make annual checks on the weather-stripping around exterior doors and windows to ensure they are intact. Properly affixed weather-stripping keeps cold air out and heat inside—giving you a break on energy bills.
In addition to the insulating effects of weather-stripping, a door sweep can prevent cold air from seeping into your home. Consider door sweeps not only for exterior doors, but for attics, basements and crawl spaces.
Prevent Frozen Pipes
Prevent frozen pipes the no-hassle way. Purchase pipe sleeves from your local hardware store and prevent the mess that comes along with broken water pipes. You'll typically find pipes that run through uninsulated areas of your home, like the attic or basement, have a greater likelihood of freezing. More economical than pipe sleeves are quarter-inch thick newspaper nestled tightly around the water pipes.
Emergency Water Damage Cleanup – Frozen Pipes

Southern homes see less frozen pipes than ones in the north. However, if a sudden freeze plunges into the south, bursting your home's water pipes, be prepared to contact an emergency water damage restoration company, like ServiceMaster in Houston, TX. Trained technicians from ServiceMaster will arrive at your home within two hours of your call and begin restoring the water damage caused by the pipe rupture. Advanced water extraction equipment and dehumidifiers are utilized to thoroughly dry out the affected areas.
Floodwaters that enter your home from winter flooding can also be quickly handled by the water damage restoration and flood damage cleanup experts at ServiceMaster. Water can rapidly absorb into a home's structure, causing extensive property damage and mold growth. Their efficient service team faithfully serve businesses and residential properties, containing the damage and restoring the property to its original condition.