RestorationMaster
Serving Humble and Fall Creek, TX area
Water Damage Related Info
Water is one of the most destructive elements in a home or building as even a small amount of water can lead to major damage if ignored.  Water damage typically occurs as a result of a leak, burst pipe, or overflow and it can also happen if there is heavy rain or flooding in your area.  No matter the source of the water, the damage can be extensive without immediate action.  Water penetrates porous building materials like wood and drywall, causing damage that can eventually threaten the structural integrity of these materials.  Ignoring this not only makes the water damage worse, but also increases the risk of mold growth.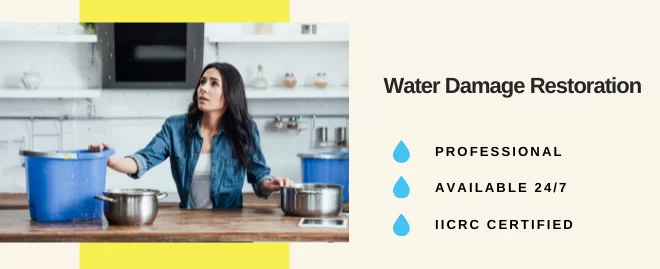 Your local RestorationMaster partner provides flood damage cleanup services for homes and commercial buildings in Fall Creek and Humble, TX area.  Our technicians can remove standing water using advanced extraction equipment and our dehumidification and drying equipment can even extract moisture from damaged materials.  Once the water is removed, we will take care of needed repairs and take steps to prevent mold growth.
Dealing with Flood Damage
Any amount of water damage on your property is cause for alarm because even minor leaks can get absorbed in the surrounding materials and cause problems.  The building materials that absorb excess water will become weakened and discolored and are at risk for developing mold growth.  It is very important to stop the spread of the water as soon as possible to limit the amount of damage on your property.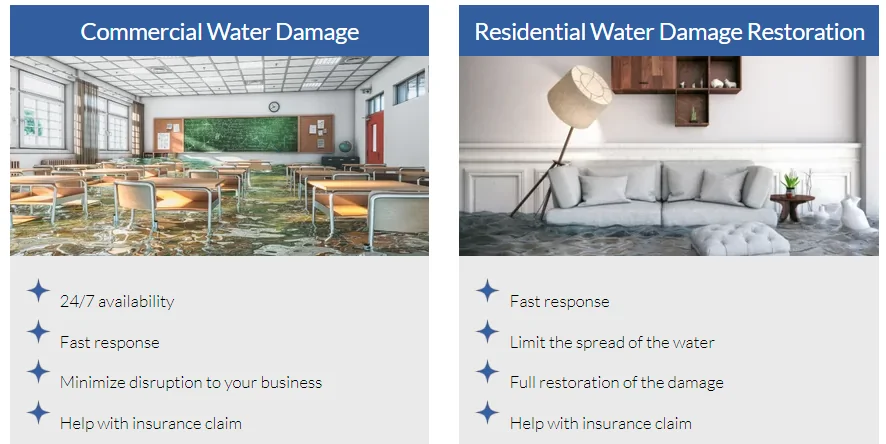 Our technicians are ready to respond to any volume of flood damage from standing water on the floor to a leak that caused damage on your walls and ceiling.  We will first assess the extent of the damage on your property and form an appropriate restoration plan to remove all water and moisture and get the affected materials restored.  Our drying and extraction equipment can handle the removal of standing water and excess moisture and we use advanced cleaning products to clean and disinfect the damaged areas.
Our water damage restoration services include the following steps:
24-hour emergency response
Free initial inspection
Removal of standing water and excess moisture
Moisture monitoring and assessment
Anti-microbial applications and disinfection
Air quality control
Debris removal
Assistance filing insurance claims
Carpet and upholstery cleaning
Mold removal
Restoration of water damaged materials and furnishings
How to React to Water Damage
You cannot hesitate to react to water damage in your home or building because the damage will continue to get worse until you do.  Make sure you call our professionals immediately for water damage restoration.  After you call us, you can help limit the damage with these tips:
What to Do After Water Damage
Mop or blot dry excess water
Remove non-permanent floor coverings like area rugs, do not try to remove permanent flooring or carpeting
Keep the drapes off the floor by putting them through a hanger and putting the hanger on the rod
Wipe excess water from furniture and put aluminum foil under the legs to protect the carpet
Put photos, paintings, important documents, and other similar objects in a safe place
Leave water damaged books on the shelf to avoid page warping until we can treat them with our specialized process
Open the doors within your home to help speed up the drying process
What Not to Do After Water Damage
Do not walk into flooded areas unless the electricity is turned off
Do not try to remove standing water with a regular vacuum cleaner
Do not use electrical appliances until they have been tested for safety
Do not try to remove mold growth, this is best done by our professionals
Commercial and Residential Water Damage Restoration Services
There is a chance that any water damage you find in your home or building could be just part of the problem.  It is very common for leaks to occur in hidden areas which can lead to extensive damage over time.  If you find any water damage at all, you need to call your local RestorationMaster partner immediately for professional water damage restoration.  Our professionals are standing by 24 hours a day at (281) 612-8739 to respond to flood damage emergencies in Fall Creek and Humble, TX area.
---
Related Services:
Water Damage Cleanup – Houston, Texas
Flood Cleanup and Water Damage Restoration – Woodlands TX
Water Damage Restoration – Kingwood, TX
Sewage Cleaning – Kingwood, TX
Sewage Cleanup Services – Houston, TX