ServiceMaster Restoration And Cleaning

Serving the Kingwood area since 1992
Water damage and flooding are always nightmares when they occur indoors, but the situation can be more damaging and dangerous if the flooding involves sewage.  There are a couple of different ways sewage can get into a home or building; it can enter mixed in with outside flood water or back up through the drains if there is a sewage backup.  Either way, you must use extreme caution if there is sewage on your property because it contains harmful toxins that can spread infection or disease in those exposed.  When you are faced with sewage, it is best to avoid the contamination and call a professional immediately.
ServiceMaster Restoration & Cleaning provides complete sewage cleaning services to safely remove sewage from homes and businesses in Kingwood, TX and restore the affected areas.  We can provide complete restoration of the water damaged materials as well as thorough disinfection to eliminate the risk of negative health effects.
Problems with Sewage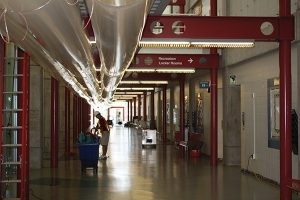 Indoor flooding or seepage that contains sewage is more damaging than regular water and much more dangerous to your health.  If sewage is not properly removed from your property quickly, it can lead to the following issues:
Water Damage: Water damage occurs when porous objects and materials absorb water which causes discoloration, warping, swelling and other issues. When the water contains sewage, the contaminants within the water get absorbed by porous materials as well.  The waste materials increase the amount of damage as well as the risk of mold or mildew growth.  The restoration must begin immediately or the damaged materials may not be saved.
Health Risks: The potential health risks of exposure to the sewage may be the bigger concern. Waste materials in the sewage contain bacteria and other microorganisms that can trigger a range of health problems.  It is important to stay away from the sewage to avoid related health issues.
Sewage Cleaning and Restoration
At ServiceMaster Restoration & Cleaning, we are not only equipped to safely remove sewage water, but also to clean and disinfect the damaged objects and materials.  We use water extraction and dehumidification equipment to remove standing sewage water and our dehumidification process will extract moisture from the affected materials.  Once the sewage is removed, all surfaces and objects are thoroughly cleaned and disinfected to restore safe living conditions. You should never hesitate to deal with sewage on your property because the damage will only get worse and the risk to your health will increase.
If you notice sewage on your property either from a backup or natural flooding, make sure you contact ServiceMaster Restoration & Cleaning as soon as possible.  We are available 24 hours a day at (281) 612-8739 to provide emergency sewage cleaning services in Kingwood, TX.
---
Related Services:
Water Damage Cleanup – Houston, Texas
Sewage Cleanup Services – Houston, TX
Flood Cleanup and Water Damage Restoration – Woodlands TX
Flood Damage Restoration – Fall Creek, TX
Flood Damage Restoration – Humble, TX
Water Damage Restoration – Kingwood, TX
January 20, 2023
Clyde Loudenberg
Missouri City, TX