ServiceMaster Restoration And Cleaning

Serving the Kingwood area since 1992
Fires are rightfully among the most feared disasters that can strike a home or building because of the high volume of damage they can cause in a short amount of time.  While the flames of the fire do cause an extensive amount of damage, the byproducts created by the fire, including smoke and soot, often cause even more damage because they can still affect your home and belongings after the fire is put out.  Smoke is a damaging element, whether it is left over from a fire, cooking, smoking, or candles.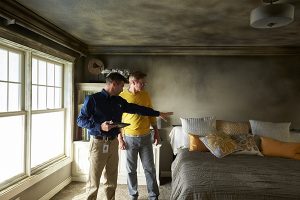 Smoke, and the soot and other byproducts it produces, is corrosive and can cause very serious damage to the building materials and objects in your home.  Materials damaged by smoke and soot need to be cleaned and restored immediately or the damage can progress and become permanent.  At ServiceMaster Restoration & Cleaning, we can help restore the effects of smoke in homes and commercial buildings in Kingwood, TX with our smoke damage and odor removal services.  Our technicians can clean and restore any soot damaged materials with advanced cleaning products and we can also provide deodorization to eliminate smoke odors.
Damage from Smoke and Soot
Fires in homes and buildings produce byproducts from the heat that are acidic and corrosive, such as smoke, soot, and oily residues.  When the fire has been put out, these materials are still present, and they have the ability to spread and settle on objects and materials that the fire didn't reach.  These substances cause damage quickly including discoloration and etching, and the affected materials will become permanently damaged if they are not restored right away.  We can reduce the effects of corrosive byproducts such as smoke and soot using advanced cleaning products that are safe and effective for most household surfaces and objects, including furniture.  If the restoration begins quickly, we can successfully salvage damaged objects.
Commercial and Residential Smoke Odor Removal
The damage caused by smoke is not always visible, as it can leave behind foul odors that are very difficult to get rid of.  Smoke odors get absorbed in porous building materials which is why they can linger long after a fire.  To effectively remove lingering odors, the affected materials and air spaces need to be treated to remove the trapped particles.  We use advanced deodorization methods such as hydroxyl deodorization and thermal fogging to extract smoke odors from the air and affected materials.  Our complete deodorization services consist of the following:
Treatment of the source of the odor
Odor extraction from affected materials
Air washing and air space treatment
Sealing of porous surfaces
Call ServiceMaster
Whether your property has sustained smoke or soot damage due to a fire or cooking mishap, it is important to have the damaged objects and materials restored immediately.  Our technicians at ServiceMaster Restoration & Cleaning use advanced cleaning and deodorization methods to effectively remove the effects of soot and eliminate smoke odors.  Give us a call at (281) 612-8739 for smoke damage and odor removal services in Kingwood, TX.
---
Related Services:
Smoke Cleanup and Fire Damage Restoration – Woodlands TX
Fire and Smoke Damage Restoration – Humble, TX
Fire and Smoke Damage Cleanup – Fall Creek, TX
Smoke & Fire Damage Restoration – Houston TX
Smoke and Soot Damage Removal – Houston, TX
Fire Restoration Services – Kingwood, TX
January 20, 2023
Clyde Loudenberg
Missouri City, TX