ServiceMaster Restoration and Cleaning
Serving the Kingwood area since 1992
Everyone knows the common signs and behaviors of a hoarder, but the factors behind what causes someone to begin hoarding are not as widely known.  Hoarding is not born out of laziness or bad habits, it is the manifestation of a mental disorder in which depression and anxiety play a part.  Individuals affected by hoarding disorder have an inability to throw anything away, largely due to anxiety.  This causes clutter to build around the home, creating a dangerous environment with limited passageways, poor air quality, dirt buildup, mold, and a number of fire hazards.
The living conditions in the home of a hoarder can become very dangerous quickly which makes it important act if you know someone affected by hoarding.  ServiceMaster Restoration & Cleaning provides hoarding cleaning services to help those affected by hoarding in Kingwood, TX return their homes to a livable condition.  Our technicians can handle large scale cleaning and restoration of the most heavily affected homes, and we always take a sensitive approach to these cases.  We consult with the affected individual at every step and involve them in every decision.
How to Help a Hoarder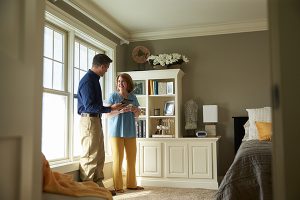 Someone who struggles with hoarding is unlikely to seek help on their own, but you cannot force help on a hoarder.  You have to start by reaching out to them and talking to them about the dangerous conditions they have created in their homes.  This type of discussion can help convince the affected individual that their home has become too cluttered and should be cleaned.  It is very important that the affected individual makes the decision to proceed with the cleaning process.
At this point, you can involve professionals like ServiceMaster Restoration & Cleaning to help with the cleaning and restoration.  Our technicians not only have the capability to clean out and disinfect homes affected by hoarding, but we also work with a sense of compassion and respect for the affected individual.  Our hoarding cleaning services consist of the following steps:
We will work through hoarded items to be kept, thrown away, or donated. The final decision is made by the affected individual.
Items of monetary or sentimental value are kept and restored.
The home is thoroughly cleaned and disinfected after the unwanted clutter is removed.
Unwanted items are disposed of, recycled, or taken to family members, friends, or charitable organizations.
We will help with associated paperwork from attorneys and trusts.
We are properly equipped to deal with any hoarding situation no matter how severe, and we can safely remove biohazard materials if necessary.  No item is removed from the home without the consent of the affected individual.  After the project is complete, we will help the individual create a cleaning plan to prevent future clutter buildup.
Call ServiceMaster
If a close friend or family member struggles with hoarding disorder, start by reaching out to them to discuss the problem.  When they are ready to start the cleaning process, contact ServiceMaster Restoration & Cleaning to provide professional hoarding cleaning services.  We will help clean up and restore homes affected by hoarding in the Kingwood, TX area so that they are safe to live in once again.  Give us a call at (218) 668-5912 to learn more about our hoarding cleaning services.
---
Related Services:
Hoarding Cleaning Services – Fall Creek, TX
Hoarding Cleanup Services – Humble, TX
Hoarding Cleaning – Houston, TX