ServiceMaster Restoration & Cleaning
Serving the Houston, TX area since 1992
Water damage is bad enough if it comes from rain or a burst pipe, but it is much worse if it is due to a sewage backup.  Sewage backups occur if there is a problem with the sewage system that causes the waste to come back into your home.  You may also end up with sewage if flood water from the outside already mixed with sewage enters your home.  Sewage is a major hazard on your property because it can do more damage quicker than clean water, and it contains waste materials and contaminants that can trigger illness or infections.  If you believe that there is any sewage in the flood water in your home, you must stay away from it and call a professional to clean it up.
ServiceMaster Restoration & Cleaning provides sewage cleaning services in Houston, TX to remove sewage water from homes and commercial buildings.  Our technicians can remove the sewage water safely as well as restore and disinfect the damaged areas so they are safe again for use.
Dangers of Sewage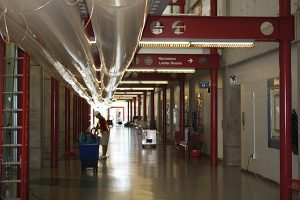 Sewage water is the most dangerous type of water that can flood your home or building.  The water can cause serious damage to the surrounding objects and building materials, and the harmful toxins in sewage can lead to severe health effects:
Water Damage: The water damage caused by sewage is often worse than clean water because the waste materials within the sewage make it more destructive. Materials that absorb the water also absorb the contaminants with it and the waste materials increase the risk of mold.  Sewage water must be removed immediately to give the affected materials a chance to be saved.
Health Risks: Sewage is a major health risk because it contains waste materials, bacteria, and other harmful toxins. You must avoid any contact with the sewage water to prevent health issues.
Sewage Cleaning and Restoration
Our technicians at ServiceMaster Restoration & Cleaning have the proper equipment to remove contaminated water from your property.  Our advanced water extraction and drying equipment will remove the moisture from contaminated materials, and we will ensure that all the affected materials are thoroughly dried with our dehumidification process.  We will also clean and restore damaged materials and sanitize the affected areas to bring them back to a livable condition.  Make sure you respond to sewage backup issues as quickly as possible to limit the damage and reduce the risk to your health.
If you suspect that the water on your property might contain sewage, call ServiceMaster Restoration & Cleaning immediately to handle the damage.  Our professionals can deal with sewage water safely and get your property back to a safe and sanitary condition.  You can call us at (281) 668-5912 for sewage cleaning services in Houston, TX.
---
Related Services:
Water Damage Cleanup – Houston, Texas
Water Damage Restoration – Kingwood, TX
Flood Cleanup and Water Damage Restoration – Woodlands TX
Flood Damage Restoration – Humble, TX
Water Restoration – Fall Creek, TX
Sewage Cleaning – Kingwood, TX
April 12, 2019
The service I received was outstanding. I called the main number and was told a local representative would call me back. Less than 15 minutes later, I received a call from my local branch and was told a technician would be at my home that afternoon. The technician called to tell me when he would arrive and he arrived promptly at that time. From the time I called to the time a technician was in my home, it was less than 2 hours. The technician was professional, efficient and explained my options thoroughly. He completed the work independently and efficiently and informed me when he would return. I was extremely pleased with the service.