ServiceMaster Restoration and Cleaning
Serving the greater Houston area since 1992
At first glance, hoarding seems like a bad habit that leads to a heavily cluttered and dirty home.  However, hoarding is not simply a bad habit, it is a mental disorder that is usually rooted in anxiety and depression.  Those who suffer from hoarding disorder are prevented from throwing anything away by their anxiety which is what causes the clutter buildup in the home to get worse until the living conditions are unsanitary and dangerous.  Large amounts of clutter can gather dust and harbor mold or insects, and the pile of items will also increase the risk of fires and injuries.
If you have a close friend or family member that suffers from hoarding disorder, it is important to help them clean out their home for their own safety.  At ServiceMaster Restoration & Cleaning, we can help clean out the homes of hoarders in the Houston, TX area with our hoarding cleaning services.  Our technicians are equipped to thoroughly clear out and clean homes affected by hoarding, and we also understand the sensitive nature of the situation.  We always treat the affected individual with compassion and respect and make them an important part of the cleaning process.
Helping a Hoarder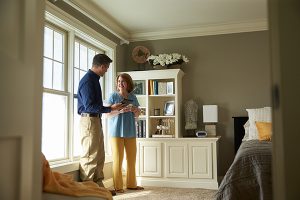 When starting the cleanup of a hoarder's home, you may be tempted to start throwing items away to clear out the home.  This is a terrible approach because you must consider and accommodate for the mental disorder that causes hoarding.  You should start by reaching out to the individual and having a discussion with them about the danger of their current situation.  It is very important for the individual to understand the danger and decide to move forward with the cleaning before any other action is taken.
Once the individual has agreed to clean out their home, you can contact our experts to help with the cleaning.  Our technicians are properly equipped to safely and effectively remove large amounts of clutter and even deal with biohazard materials.  We treat the affected individual with respect and let them make the decisions on what should be removed from the home and what should be kept.  You can expect our technicians to help with the following:
Sorting through the hoarded items and helping the individual decide what to dispose of, keep, or donate.
Restoration of valuable or sentimental items.
Cleaning and sanitization of the home.
Disposal of unwanted items and delivery of items to family members, friends, or charities.
Completing paperwork from trusts, attorneys, and other agencies.
Our technicians will not remove anything from the home unless the affected individual gives their permission.  They will always be included in every step of the process so that they maintain control of what is happening on their property.  Once the cleaning is complete, we will outline a plan with the affected individual to help them keep their home clean and free of clutter.
If you know someone with hoarding issues, it is important to reach out to them for their own health and safety.  Once they agree to go forward with cleaning out their home, you can call ServiceMaster Restoration & Cleaning to help.  We provide complete hoarding cleaning services to help affected individuals in the Houston, TX area.  You can reach us at (281) 668-5912 for more information about our hoarding cleaning services.
---
Related Services:
Hoarding Cleaning Services – Fall Creek, TX
Hoarding Cleanup Services – Humble, TX
Hoarder Cleaning Services – Kingwood, TX
March 3, 2021
Kayler Williams
Houston, TX
I appreciate good customer service and Service Masters stands up to that! They call and advise you when they will arrive and they are on time. The service guys are very polite, courteous and clean up very well after removing what is damaged. I have used other companies, which they were ok, but this one, I will give them a 10! I would recommend this service. Good customer service is hard to time. Keep up the good work and service.