ServiceMaster Restoration & Cleaning
Serving the Houston, TX area since 1992
The residents of the Houston, TX area are too familiar with the type of severe weather that can descend on the region.  Houston regularly experiences thunderstorms, hail, and strong winds, and there is always a risk of more severe storms like hurricanes and tornadoes.  Both types of storms have hit the Houston area before and as many experienced with Hurricane Harvey in 2017, hurricanes and tornadoes can cause very serious damage very quickly.  Both types of storms are also deadly as tornadoes cause large amounts of destruction with strong winds and hurricanes lead to massive flooding issues.  Residents and businesses in the Houston, TX area must always be prepared for the possibility of tornadoes and hurricanes to give themselves and their property the best chance of survival.
At ServiceMaster Restoration & Cleaning, we are ready to help homes and businesses in Houston, TX affected by these storms with our tornado and hurricane damage repair services.  We can handle repairing serious structural damage caused by a tornado and deal with major indoor flooding from a hurricane.  If your property is damaged by one of these storms, you must call us immediately to limit the spread of the damage.
Tornado Damage
Tornado season in Houston is the most active in the late spring and early summer, but a tornado can hit the area at any time.  The winds make tornadoes dangerous because they are strong enough to cause severe structural damage to homes and buildings, knock over powerlines and trees, and even lift vehicles.  Your property can be in a hazardous state after a tornado as wood, glass, tree branches, and downed powerlines may be strewn about by the wind.  You must be careful walking through your property after a tornado and stay away from any downed powerlines.
You must call ServiceMaster Restoration & Cleaning as soon as you can after a tornado has caused damage to your property.  The physical damage a tornado can cause to your home or building will leave it open to further damage and vulnerable to collapse.  It is important for damaged buildings to be stabilized immediately to prevent serious damage.
Our technicians will help restore your property after a tornado with the following:
Emergency Board Ups: We will quickly board up damaged windows, doors, and other openings to protect the building from rain, wind, animals, and other outside elements.
Tarping: We can cover a heavily damaged roof with tarp for protection.
Debris Removal: Debris from the storm including glass, building materials, and tree branches will be removed from your property.
Reconstruction: We can provide reconstruction services to repair the structural damage to your home or building.
Hurricane Damage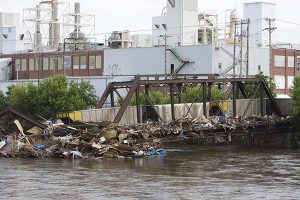 Hurricanes bring very severe weather conditions to an area including downpours and heavy winds that lead to serious damage and massive flooding.  The winds of a hurricane can be quite strong and cause extensive damage, but the worst effects of the storm are caused by the flooding.  The downpour that comes with hurricanes leads to flash floods that can cover an entire region.  The flood waters from a hurricane are extremely hazardous because they often contain debris, sewage, and other contaminants.
At ServiceMaster Restoration & Cleaning, we are experts at dealing with flood damage and we can help homes and businesses recover after experiencing flooding in a hurricane.  Our technicians will effectively remove standing flood water as well as repair and restore the areas that were damaged.  We will help get your property back to its original condition after a hurricane with the following services:
Water Damage Restoration: We use advanced extraction and dehumidification equipment to remove flood water and extract the moisture from the affected materials. We then clean and sanitize the area to ensure that it is safe to inhabit.  Indoor flooding can lead to other issues like mold growth and structural damage which makes it important to address the flooding quickly.
Board Ups and Tarping: If the winds from a hurricane caused severe damage to the windows, doors, or roof of your home, we will cover and secure your home by boarding up and tarping over the damaged areas.
Reconstruction: We can rebuild major structural damage to your home or building to restore it to its original condition.
A hurricane or tornado can hit the Houston, TX area at any time which is why your home or business must always be ready for the possibility.  You can limit the potential damage to your property by being prepared and addressing any storm damage immediately after the storm hits.  If your property is affected by a hurricane or tornado, contact ServiceMaster Restoration & Cleaning right away to restore the damage.  We can deal with any level of structural damage or flooding that can result from these storms.
Kingwood Village Estates recovers after Hurricane Harvey with the help of ServiceMaster – Watch the video
You can call us 24 hours a day at (281) 668-5912 for tornado and hurricane damage repair in Houston, TX.
---
Related Services:
Storm Damage Restoration – Houston, TX
Storm Damage Restoration – Kingwood, TX
Storm Damage Repair – Humble, TX
ServiceMaster Storm Damage Repair – Fall Creek, TX
Tornado and Hurricane Damage Restoration – Kingwood, TX