ServiceMaster Restoration And Cleaning
Serving Humble and Fall Creek, TX area since 1992
Hoarding is a complex issue that causes those affected to engage in behaviors that can make their homes very dangerous places to live.  Hoarding is not a bad habit, but a mental disorder in which the affected individual suffers from anxiety and depression.  These underlying issues are what stop those affected from throwing anything away that has been collected in the home.  This is how items build into excessive collections of clutter that clog the home and create very dangerous and unsanitary living conditions.  Hoarders and their families are at serious risk if the home is not cleaned up.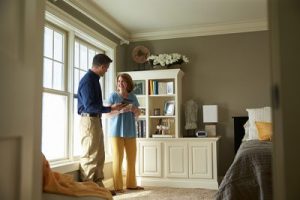 Helping a hoarder clean their home is not as easy as showing up and starting the process.  You have to reach out to a hoarder and discuss the danger they are putting themselves in to help them see the need to clean their homes.  Only after they agree should you continue with the cleaning.  At ServiceMaster Restoration & Cleaning, we can help those who struggle with hoarding in Fall Creek and Humble, TX with our hoarding cleaning services.  Our technicians are ready to work with affected individuals to help them clean out their homes and make decisions about what to do with the hoarded objects.  We will ensure that the home is cleaned and disinfected to restore safe living conditions.
Dangers of Hoarding
As mentioned above, the mental condition associated with hoarding makes it difficult for those affected to remove anything from their home.  This causes items to pile up around the home and take up walkways and even entire rooms.  The risk of injury increases as the clutter builds as those in the home are more likely to trip or knock over piles of objects, and the clutter also increases the risk of fires.  If an emergency such as a fire should occur, those within the home may not be able to escape easily if the pathways and exits are blocked.  Extreme clutter also breeds bacteria and mold and provides a haven for pests which create dangerously unsanitary conditions.
Once a hoarder agrees that it is time to clean their home, you can call our professionals to help with the large-scale cleaning and restoration.  We will approach the hoarder with a sense of respect and make sure they are part of the process from start to finish.  Our technicians have the equipment and cleaning products to remove extreme clutter from homes as well as clean and restore areas affected by dangerous substances such as mold or bacteria.
You can expect us to do the following when you call us for hoarding cleanup:
Our technicians will help the affected individual sort through the objects in their home and decide whether they should be kept, thrown away, recycled, or donated.
We will make sure valuable and sentimental items are saved.
After the clutter is removed, we will thoroughly clean and sanitize the home.
We can help dispose or recycle unwanted items and deliver certain items to charities, friends, or family members.
We can provide assistance with paperwork concerning lawyers and trusts.
Most of all, our technicians understand the sensitive nature of hoarding situations and always make sure that we treat the affected individual with dignity and respect.  We will not take any steps in the cleaning process unless we have the approval of the affected individual.
If you know a hoarder in the Fall Creek and Humble, TX area that is ready to clean out their home, contact ServiceMaster Restoration & Cleaning to help with our hoarding cleaning services.  You can trust our technicians to treat the affected individual with respect and provide thorough cleaning and restoration to improve the living conditions in the home.  You can reach us at (281) 668-5912 for more about how we can help.
---
Related Services:
Hoarding Cleaning – Houston, TX
Hoarder Cleaning Services – Kingwood, TX