How to Help a Hoarder Clean up
Hoarding is a psychological disorder.  People who hoard compulsively collect things, to the point where their homes become filled with just about everything they encounter.  This includes garbage, junk mail, food products, consumer goods, and many other items that can lead to very unsanitary conditions.
No one is completely certain why people are compelled to hoard.  Research suggests that some hoarders hoard to help deal with loss.  Others have suggested that hoarding is a way to deal with the stress of economic hardship.  Whatever the cause may be, most hoarders will attempt to hide or deny their behavior from their loved ones and friends.  Eventually, however, people find out.
If you have a family member or friend who has a problem with hoarding, there are a number of ways to help them cope.  The most direct and effective approach is to clean out their home.
First Steps to Hoarding Clean up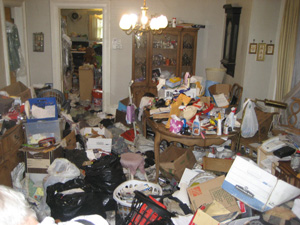 If you've entered the home of a hoarder, you'll know that conditions can be pretty extreme.  Hoarders collect things, and they often forget about them.  To access whether you will need professional help, you should walk through the hoarder's home and determine exactly what you're dealing with.
Some things you might find include:
– Spoiled or rotten food
– Animal waste
– Hazardous chemicals
– Deceased pets
– Fire hazards, such as large piles of paper or trash
What you can do
Whether you want to tackle hoarder cleanup on your own is completely up to you and dependent mostly on your personal health and budget.  If you already have a compromised immune system, it would be unwise to try cleaning the home on your own.  If, however, you are in good health and cannot afford professional cleaning, there are a few important things you need to do.
1.  Obtain Personal Protective Gear, such as rubber gloves, goggles, and potentially a breathing mask.
2.  Arrange proper disposal methods, such as curb side pickup or dumpster rental.
3.  Gather the proper chemicals and cleaning materials, and start cleaning.
4.  The hoarder will likely try to prevent you from throwing things out.  Remember that they have a problem, and remember that essentially everything has to go.
Professional Help
Depending on what you find inside the hoarder's home, you may not want to attempt cleaning it on your own.  In this case, there are number of professional cleaning services that specialize in Hoarding Clean up.  Services like these have standardized Hoarder Clean up procedures set in place, which usually include:
– Decontamination of hazardous fluids and materials
– Deodorization of offensive smells
– Proper disposal: According to local ordinances and using certified biohazard containers when needed.
– Discretion: Because hoarding is a sensitive, psychological condition, which requires the proper care.
Hoarder Recovery
Hoarding can go unnoticed and unrestricted for years, but the first step towards recovery is to clean out the home and to remove everything that has been hoarded.  It may take a long time, and it may require professional counseling for a hoarder to eventually agree to have their home cleaned; but, in the long run it is best path of action for everyone involved.