RestorationMaster
Serving Buffalo Grove, Lake County, part of Cook County, IL and the surrounding areas, available 24/7/365
Hoarding is a very complicated mental health disorder. It is more common than most people are aware. It affects millions of people across the United States. It is very serious and causes those with the disorder to refuse to part with any item that is brought into their home. This can include garbage, newspapers, and many other items. By not cleaning their home, they are at risk for fire, mold growth, and health issues. RestorationMaster is here to help. We provide hoarding cleaning services for those who struggle with the disorder in Buffalo Grove, IL. We allow the hoarder to have some say in the cleaning process and help them make decisions on which items to keep and which items to remove. We are very sympathetic to their situation and understand that this can be a very difficult process for many of them. We will fully clean and restore the home and make sure the individual has safe living conditions.
Hoarding is such a severe mental condition that individuals will develop anxiety if they throw away any of their belongings. They save food, garbage, and other various objects that make the home dangerous to live in. The mess allows for mold growth and bacteria that causes diseases to fester. This combination is not safe for anyone. The accumulation can be embarrassing for the individual and for his or her loved ones. It is very important that the home is cleaned and restored before the individual contracts a disease or is in a serious accident. It is very common that the hoarder is not able to ask for help themselves and needs a friend, family member, or loved one to do it for them.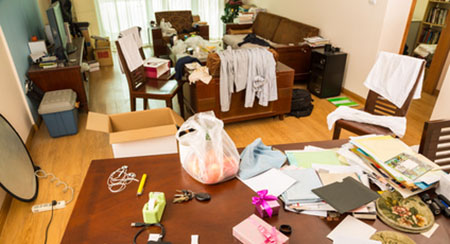 Our technicians have been trained and certified to clean any home no matter what condition it is in. They have been trained to remove garbage, newspapers, and other unnecessary items from the home and save any valuable items. We understand this can be an emotional time for the individual and have trained our technicians to build a relationship with the hoarder and accompany them based on their needs. Our hoarding cleaning services consist of the following steps:
Clean and restore jewelry, photos, or other sentimental objects.
Assist the individual in deciding what to keep, donate, recycle, or dispose of.
Disposal or removal of garbage and other unwanted items.
Delivery of unwanted items to friends or family.
Assist with paperwork from attorneys, trusts, and other government agencies.
Hoarding Cleaning Services from RestorationMaster
RestorationMaster uses a unique approach that allows hoarders to feel more comfortable when parting with their belongings. At RestorationMaster, we train our technicians to develop a personal connection with the individual and allow them to help create a cleaning plan and participate in the process. Our approach uses the following steps:
Phase 1: Building a Personal Connection
We attempt to understand the severity of the issue before we enter the home.
We build a personal connection with the individual and earn their trust and respect.
We draft a cleaning plan and include the hoarder and his or her family in this process. At this time, we may refer the individual to a professional counselor.
Phase 2: Implementation of the Cleaning Plan
We complete the cleaning plan.
We remove garbage, unwanted items, and debris from the home.
We offer guidance to the individual and help make a decision of what to do with their belongings. However, the final decision is up to the individual.
Phase 3: Follow Up
We help create a plan that helps the individual continue to keep their home clean and we follow-up with the individual and help make sure that their home stays clean.
We call the individual regularly to confirm that the plan is being followed. If necessary, our technicians will return to the home to see if more cleaning is needed.
We allow the individual to be included in all decision making and have control over the cleaning process.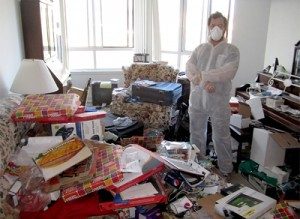 Hoarding is a very common issue that is very tough to deal with it. Without proper cleaning, it can become a very dangerous living situation. If you know someone in a hoarding situation in the Buffalo Grove, IL area, be sure to call RestorationMaster at (847) 558-6604. We will make certain that the home is safe to live in and clean out all garbage, debris, and rubble! Our hoarding cleaning service will make you or your loved one's home livable again!
---
Hoarding Cleaning Services – Buffalo Grove, Lake county and other IL locations:
Arlington Heights IL 60004 | Barrington IL | Buffalo Grove IL | Lake Zurich IL