RestorationMaster
Serving Buffalo Grove, Lake County, part of Cook County, IL and the surrounding areas, available 24/7/365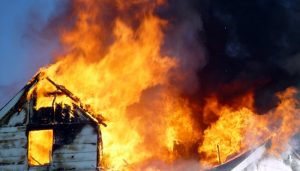 A fire can be one of the most devastating disasters to any community. They can happen without warning and destroy homes, endanger lives, and eradicate furniture and other personal belongings. Fires can be caused by many everyday items such as candles, electrical appliances, or cooking equipment. When the fire is put out, it is important that action is taken immediately. While fire does cause damage, it is not the only culprit. After a fire, soot and corrosive byproducts can further damage your home.  Without immediate treatment, treatable damage will become permanent. We provide fire damage restoration in the Buffalo Grove, IL area. We respond immediately and will have a technician on site in order to assist you and assess the damage. We will be sure no temporary soot damage will become permanent.
Commercial and Residential Soot, Smoke and Fire Damage Cleanup Services
While it is most important to put out the fire, that does not mean it is the end of the damage to your home. There are a multitude of things that will continue to damage your home that include soot damage, smoke damage, and water damage (from putting out the fire). At RestorationMaster we have highly trained and experienced technicians who can help assist you in limiting the damage to your home through our fire damage restoration services. It is important to contact your local RestorationMaster partner immediately before the damage to your home becomes permanent. Our technicians will use of state-of-the- art cleaning products and will eradicate any damage caused by soot and corrosive byproducts.
The fire damage restoration services we provide include these basic steps:
Emergency pre-cleaning or at-risk surfaces
Content cleaning
Content pack-out
Wall, ceiling, and HVAC cleaning
Odor removal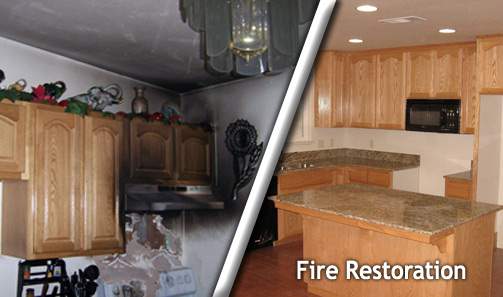 It is vital that your home is treated by trained professionals because any cleaning done by an uncertified person can lead to further damage to your home and cause temporary damage to become permanent. Our technicians will provide the following with our fire damage restoration services.
Protection: We offer protection to you, your family, and your property. We will assess the damage to your home, deem if it is safe, and protect your home during the restoration process.
Securing of the Building: We can assure that your home is stabilized through our board-up and tarping services. We will provide temporary protection to your home for the duration of the restoration.
Source Removal: We will discard debris found at the source of the fire which should eliminate odor.
Water Damage: When the fire was extinguished, excessive water may have caused water damage to your home. Our technicians dry your home to prevent mold or mildew growth as well as further water damage.
Pack-Outs: We will remove all personally damaged content, clean and restore all items, and store them until a new living situation is available for you and your family. Pack-outs are more effective in restoring the damage to your belongings and your home. We record every item that is involved in our pack-out service and will deliver them as soon as your home is ready.
Cleaning: Our cleaning services are very effective and allow our technicians to clean surfaces without removing any paint. We remove loose soot, clean the surfaces of your home, and restore all items as best we can.
Deodorization: We remove all odor left from debris, smoke, and soot.
Structural Repairs: We offer construction repair services to repair any structural damage to your home. We will assess the damage and begin to repair the damage immediately.
If your home or building has been damaged by a fire, call RestorationMaster immediately for fire damage restoration services. Our technicians are top-of-the-line and have been properly trained to restore your home with our services that include but are not limited to soot removal, structural damage, content cleaning, and deodorization. We are available 24 hours a day at (847) 558-6604 for emergency fire damage restoration in or near Buffalo Grove, IL.
---
Smoke and Fire Damage Restoration in Buffalo Grove, Lake county and other IL locations:
Arlington Heights IL 60004 | Barrington IL | Buffalo Grove IL | Northbrook IL | Wilmette IL
---
Fire Damage Articles