ServiceMaster DAK
Serving Buffalo Grove, Lake County, part of Cook County, IL and the surrounding areas, available 24/7/365
Water damage often occurs in varying degrees but indoor flooding is usually the worst.  Flooding in your home or building can be caused not only by rain and natural floods, but also by overflows, leaks, backups, burst pipes, and other internal problems.  Standing water is a huge threat to your property because it quickly penetrates furnishings and building materials while creating the right conditions for mold.  ServiceMaster DAK provides professional flood damage restoration services to help clean and restore flooded homes and businesses in Buffalo Grove, IL.  We can effectively remove any amount of flood water and ensure that the affected areas have been dried and restored.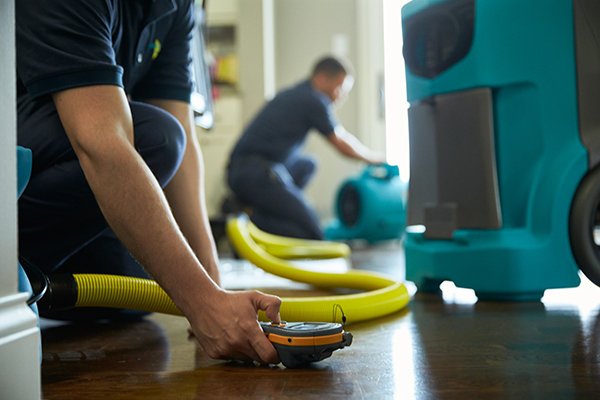 Standing flood water can get absorbed quickly into your home as drywall, wood, insulation, and flooring are all porous building materials that allow water to spread through them.  Building materials that soak in too much water are at risk for serious structural damage as well as mold growth which can make the damage even worse.  Mold can also have a damaging effect on your health which is why you should not hesitate to deal with any flooding issues.
We are fully trained and equipped to remove flood water from homes and businesses and repair the damaged areas.  We use state-of-the-art water extraction equipment to remove standing water and we will also make sure any wet materials are thoroughly dried with our dehumidifiers to prevent further damage and mold growth.
The flood damage restoration services we provide include these steps:
Emergency Response: We arrive as quickly as possible to stop the spread of the flood water and begin the restoration.
Water Removal and Drying: We will remove the flood water with our water extraction equipment and dry the affected areas with strategically placed dehumidifiers.
Reinstallation and Cleaning: We reinstall or move back any large objects or furnishings that we moved during the restoration.
Flooding from Burst Pipes
One possible source of indoor flooding, especially during the winter in the Chicago area, is burst pipes caused by freezing water.  Cold weather can cause the water flowing within the pipes to freeze and once this happens, the ice expands slowly until it causes a burst in the pipe.  The water within the pipe will spill out and create a huge mess of your home that no one wants to deal with in the middle of winter.  Our technicians have dealt with burst pipes before and we will repair the broken pipe as well as clean up the water damage.  You can help prevent frozen pipes by installing insulation on pipes in the uninsulated areas of the home.
Indoor flooding requires immediate action to prevent significant structural damage so make sure you call the professionals of ServiceMaster DAK as soon as possible.  We will immediately remove all standing flood water and begin the restoration of the affected areas to prevent structural damage and mold growth.  You can give us a call 24 hours a day at (847) 558-6604 to respond to flood damage emergencies in Buffalo Grove, IL area.
---
Rating:


Lake Forest IL
Performed by Oscar
I do not have the words to express the gratitude I feel for the Service Master crew that helped us through the misery of a flooded basement. They were skilled, considerate, efficient and especially respectful of other people's treasured belongings. I have no idea how they accomplished the massive task of moving every item in a massive space to remove soaked carpeting, protecting everything while the space dried with heaters they installed. They then put everything back in the right place after new carpets were in. Thank you, Oscar! You are one of those people who goes way above and beyond.
---
Review by S.B. – Buffalo Grove, IL
Disaster Restoration
Rating

Your people are just wonderful! They were extremely conscientious, professional, and just a joy to be around. The office staff is just as amazing. Too bad all service providers are not this nice to deal with!!!
---
ServiceMaster DAK Flood and Water Damage covered areas:
Arlington Heights IL 60004 | Barrington IL | Buffalo Grove IL | Lake Zurich IL
---
Recent Reviews
January 7, 2020
Very thorough clean up! The men were very professional and competent! They arrived on time for 5 days and were very pleasant and respectful of my home always wearing "booties" when entering. The room was left immaculate and debris removed in plastic bags day 1. The fans were checked daily until the room was dry. Very good service! Recommending Brian Brown and Gabriel who did a great job!
---