Not all water damage is created equal as sometimes excess moisture causes minor surface damage or discoloration that can be easily fixed. Flooding, however, results in the worst type of water damage because it can cause extensive damage in a large area and result in the growth of mold or mildew. Indoor flooding may be caused by heavy rain and natural flooding, burst pipes, overflows, or serious leaks and it requires immediate attention to help prevent extensive damage. ServiceMaster DAK provides flood damage restoration and cleanup services in Northbrook, IL to extract flood water and clean up the resulting damage. Our technicians have the training and equipment necessary to effectively deal with extreme cases of indoor flooding.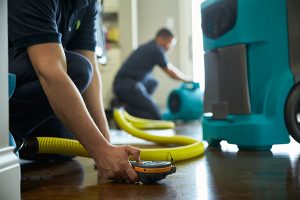 It does not take long for excessive amounts of water to penetrate flooring, wood, drywall, and other furnishings or building materials which is why you must call a professional immediately. Many of the affected surfaces will start to warp or become discolored and if too much water is absorbed, walls and flooring can lose their structural integrity. The presence of mold is also likely to occur with indoor flooding which presents a serious health threat to you and your family.
The technicians of ServiceMaster DAK can effectively remove indoor flood water using advanced water extraction equipment. Once we remove the standing flood water, we will set up dehumidifiers in the affected area to extract all excess moisture from the air, furnishings, and other wet materials.
We take care of the following with our flood damage restoration services:
Emergency Response: Our technicians will arrive soon after your call to limit and evaluate the damage.
Water Removal and Drying: Our water extraction equipment can remove flood water and we will dry all affected materials.
Reinstallation and Cleaning: Any large objects we remove during the restoration will be returned to their original place when we have completed the work.
Flooding from Burst Pipes
Burst pipes are one possible source of indoor flooding, especially during the winter. Freezing temperatures can cause the water within the pipes to freeze if the pipes are in an uninsulated area like the attic or basement. The frozen water slowly expands which puts pressure on the pipe until it bursts and causes water to leak out into your home. While burst pipes are more likely during the winter, they can happen at any time of the year as worn out pipes are also at risk to burst. The technicians of ServiceMaster DAK can clean up the water damage caused by a burst pipe and fix the pipe. If there are pipes in uninsulated areas of your home, you can install pipe insulation or try to keep these areas warm to prevent frozen pipes.
If you experience significant flooding in your home or building, it won't be long before you are facing serious structural damage or mold growth. Call ServiceMaster DAK right away for flood damage restoration services in Northbrook, IL at (847) 983-7400. Our technicians will quickly remove the flood water and get the affected areas restored.
---
Recent Reviews
January 7, 2020
Very thorough clean up! The men were very professional and competent! They arrived on time for 5 days and were very pleasant and respectful of my home always wearing "booties" when entering. The room was left immaculate and debris removed in plastic bags day 1. The fans were checked daily until the room was dry. Very good service! Recommending Brian Brown and Gabriel who did a great job!
---