The daily use of the carpet in your home or office causes it to accumulate dirt, dust, dust mites, odors, and other microorganisms but making sure the carpet is adequately cleaned is often overlooked. The accumulation of dirt and dust in the carpet fibers can not only cause the carpet to look bad and deteriorate, but it can also trigger allergies and other negative health reactions. ServiceMaster DAK provides residential and commercial carpet cleaning services for homes and businesses in Northbrook, IL. We can completely remove embedded debris and stains with our advanced cleaning equipment to restore your carpet and contribute to a healthier environment.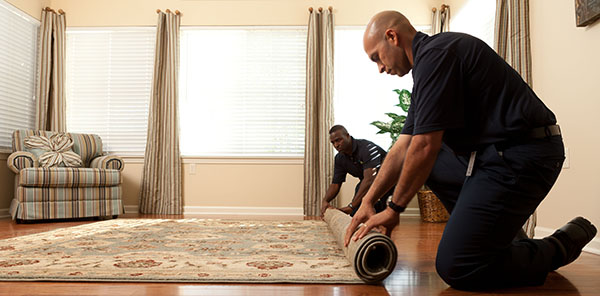 Our carpet cleaning technicians have the training, experience, and right equipment to effectively clean and restore all types of carpeting in commercial and residential settings. We begin by evaluating the carpet to determine the best course of action and pre-treat spots and stains. Areas that receive the most foot traffic get special attention to loosen the embedded soil. Once we finish the evaluation and pre-treatment, we clean the entire carpet with the hot water extraction method using our truck mounted equipment. The wand deposits hot water and cleaning agents into the carpet fibers and simultaneously extracts the solution, as well as embedded dirt and debris, back out of the fibers and into the truck-mounted holding tank. Our technicians will safely move and replace your furniture as we clean and the soiled water that is collected is taken back to our facility for disposal.
After we finish with the hot water extraction process, we will groom the carpet fibers for a better appearance and to help the carpet dry more effectively. We also provide Scotchgard protection applications to help keep your carpet protected between cleanings from stains and debris and to maintain its appearance. A dirty or worn out carpet can affect the appearance of your home or office and result in poor indoor air quality which is why we recommend having your carpet professionally cleaned at least once per year.
Professional carpet cleaning will not only clean and restore the appearance of your carpet, it will also help extend its life. If your home or office in Northbrook, IL or the surrounding areas could benefit from professional carpet cleaning services, contact ServiceMaster DAK. We will arrive within 2 hours of the scheduled time to begin the cleaning. You can call us at (847) 983-7400 to schedule a carpet cleaning appointment.
Carpet Cleaning Services by ServiceMaster DAK:
---
Recent Reviews
January 7, 2020
Very thorough clean up! The men were very professional and competent! They arrived on time for 5 days and were very pleasant and respectful of my home always wearing "booties" when entering. The room was left immaculate and debris removed in plastic bags day 1. The fans were checked daily until the room was dry. Very good service! Recommending Brian Brown and Gabriel who did a great job!
---