Water Damage Cleanup FAQ
Water Damage – How Much Is Too Much
Everyone has had water in their facility where it shouldn't be.  It's always a mess, but how much is too much?  When water damage occurs, should you handle it with your own staff, or should you call in a professional water restoration company?
The Institute of Inspection Cleaning and Restoration (IICRC) sets national standards for how to properly handle water damage in 7 steps:
Turn the water off first. It is no use to start cleaning up the mess until you have fixed the problem.  So fix the leak, call the plumber, call the city, wait for the seepage to stop; whatever you need to do to stop the problem is your first step.
Determine the path that the water traveled. Find out where the water started and where it went.  This isn't always easy.  Water can travel through walls, behind cabinets, through building materials of all kinds.  Only when you know where it traveled can you dry out all the areas affected.  Missing some areas means problems later.  Your trusted water damage restoration company has several types of moisture meters (costing from $600 into the thousands) that will determine where the water traveled. Find out more about the cost of water damage restoration below.

Protect the contents. Many times, furniture is also affected by the water.  For example, wet legs from chairs or furniture can release stain into carpet and other flooring and cause permanent damage.  Get everything up and out of the water right away.

Remove the surface water. It seems that it is always more than you think.  A simple toilet supply line can leak between 700 to 1,400 gallons of water in 24 hours!  Be prepared with enough staff and equipment to vacuum it up in a reasonable time.
Dealing with carpet pad. In most cases, remove and discard the pad from the affected areas.  It is inexpensive to replace and very hard to dry.  Take it out, dry what is left and replace it.
Prevent mold growth. Treat the wet area with an antimicrobial solution once the surface water has been removed (staff must have the proper certification).  Spray this on hard surfaces and under carpet and then draw it through the carpet with a vacuum.  Then be sure to dry the area within 3 days or less.  Mold takes time to grow so time is on your side, but if the area isn't dried quickly it will grow and cause further problems.
Balance the moisture evaporation. This part can be tricky without the proper test equipment owned by a restoration company.  In a nutshell, when you start a fan on an area to dry it, you put moisture in the air.  This requires a dehumidifier(s) to wring the moisture out of the air at the same rate that you are putting it in with the fan.  Without the proper balance you can cause secondary damage to walls and other building materials. Qualified restoration companies are experts in this process and should be hired if you feel the amount of water is too large to dry in a single day. Waiting too long to call them results in a host of other problems you don't need in the future.
A simple evaluation of your ability to respond to water damage today will provide you with an appropriate response when it happens.  Do you have enough equipment to vacuum water readily available to all buildings?  Do you have large fans available too?  Can this affected area be cleaned and dried in one day?  If not, call in help.
Secondary damage and mold growth caused by not drying water damaged building materials has resulted in thousands of lawsuits across the county.  Your best defense is to plan ahead of time and be prepared to call in help from a qualified restoration company if conditions warrant.  It will save a host of problems in the future.  Water damage happens in every facility.  Be ready.
Water Damage Restoration Tips
Waking up to a basement full of water, a burst pipe in your kitchen or an overflow of water in your bathroom can ruin your whole day. Before you call a water damage cleanup and restoration professional, here are some steps to take to reduce the amount of water damage to your property and possessions.
Find out where the water is coming from.  This may sound obvious, but if you've just come home and found a gigantic mess and don't know where it originated, the first thing you need to do is to FIND IT.  If you are not able to find the actual source of the water, you may have a pipe that has burst.  You want to stop additional water from entering your home as soon as possible.  If you have a bust pipe, turn off the water supply to your home, if your roof is leaking, stop the leak as best you can.

Figure out how much damage has been done.  Some things can be fixed on your own, but if it involves damage to your drywall, flooring, or ceilings, then it's best to call in a professional.

If it's something you can manage on your own, then first things first:  circulation!!  Open the windows, turn on the fans, let the room breathe! This will not only help dry things out, but it'll also help reduce the smell.  Get a dehumidifier out and running – it takes the moisture out of the air and surrounding objects, and helps avoid mold and mildew from developing – a great instrument to have at hand.
Professional water damage mitigation services
RestorationMasterFinder.com is a great resource for water damage and flood cleanup services in your area.  Simply visit the website, select your state from the menu and click on the featured service provider closest to your home.  RestorationMasterFinder.com features local experts for water damage mitigation services across the nation.  These highly trained technicians are ready to handle emergencies around-the-clock, or schedule appointment times at your convenience!
Flood Damage Cost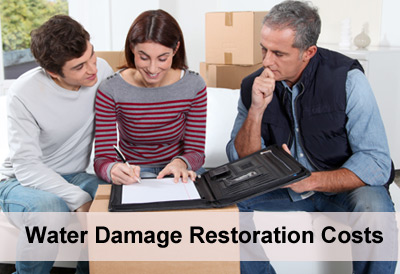 According to statistics floods are one of the most frequent disasters that occur in the USA. When water damage occurs time is tight and you need to think and act quickly. Such an emergency situation should be stopped as soon as possible in order to prevent the damage from spreading. What can you do? Who can you call? This water damage restoration cost guide is prepared to help you efficiently solve you problem and restore your home to a normal condition.
What is a water damage restoration and how can this be helpful for you? This is a process in which your home is restored to the condition in which it was before the damages occurred or an improved one by removing the problem and its consequences. There are also 4 levels of water damage. You can read more on water damage, what it is and what levels it has here.
Further on in this article you will find the particular ways to tackle this issue timely and effectively.
Water Damage Restoration Cost
Firstly, contact your insurance company and inform them about the damages that you have had to see which part of the damaged items are eligible for an insurance claim.
Secondly, don't waste any time and call us at 888-915-7197. Waiting more could cause the water damages to spread. If a pipe is broken, you have another leak in your house or you are experiencing the unfortunate event of being flooded, any minute is important, especially if you cannot locate the source of the damage or you have no control over it. Let us know what problem you have and ask us for the free information you can receive. We can provide for you a free consult regarding our services and the way we can help you cope with your emergency situation. Check out the water damage cleanup services that are provided and how we can be helpful for you.
Thirdly, try to return the process of damage. Use the time you have until the water damage cleanup and restoration company experts arrive on the spot and, if possible, begin drying up the wet areas or closing the leakage, if you have one. The final water damage restoration cost will also be lower if you do part of the work on your home rehabilitation – in this way the professionals will work less on your damages and of course charge you less.
Another saving money tip is to do some cleaning along with your restoration. If you contact a cleaning company to clean your carpet for example your carpet cleaning costs will be lower compared to a case in which you contact a company only for carpet cleaning. Ask cleaning and restoration companies like RestorationMaster about the offered cleaning services like for example carpet cleaning.
Factors That Determine Water Damage Cost
The cost of flood damage cleanup depends mainly on two factors – the size of the damage and the restoration company that you chose. It is difficult to give an exact price calculation so before going to particular estimates it is important to first take a look on the factors that comprise the water damage restoration cost:
Size of the damage. When water has leaked within your home the restoration company needs to extract it so logically the more it is, the more the time for the experts to work and the higher the price. For example if your home is 1,000 square feet, extracting water that is 5 inches high would cost $17,310 and if the water is 1 foot high flood repair would cost you about $27,150. Another factor that define water damage restoration cost is the type of water that has leaked. If it is pure tab water your expenses will be lower but if it is flood water which is polluted and also dangerous the price for the restoration will be higher. Also, the size of the damaged area within your home is another cost compound factor. Fill in the free estimate form offered to you on our page or give us a call to know more precisely what your water damage restoration cost will be, based on your particular case.

Check the website of the The Federal Emergency Management Agency and in particular the National Flood Insurance Program for extra information that might be useful as well.
Flood Damage Cleanup Solutions
Ask for a written estimate that includes all factors of the flood damage restoration cost to be able to see what is the price for every service you are going to get. When water damage restoration experts arrive at your home the first thing they do is look around and detect the reason for the emergency situation that you have.
They take with themselves all the special equipment necessary and use it to explore the problem and solve it.
Water damage restoration cost includes cleaning the area from the water and damp, drying it, removing any results from the damage like mold and finally sanitizing the area that has been infected. All of these are important in order not only to restore your home but also to ensure the health and safety of yourself and your family.
The restoration company will also try to restore some of the objects that have been damaged. For some of them it will be possible. For others items the price of restoring them may be higher that the cost for buying them new in which case they will not be restored. The water damage cleanup cost includes this service as well.
Is there anything else you would like to know? Ask us your questions free in the comments below!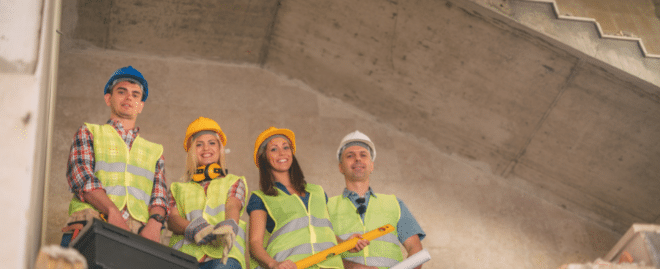 Water Damage FAQ
Read the full list of questions and answers below.
How long will it take my property to dry?
Drying time is determined by a combination of factors including the location, duration and source of water, the types of building materials, the weather conditions and how quickly emergency water extraction services began. Through consistent monitoring and evaluation of the drying process, we can determine when the drying is complete. Your carpet may feel dry to the touch, but padding and sub-floors may still be wet underneath. While there are no rules to determine how long your property will take to dry, we can tell you it may take between three to five days or more, depending on the conditions.

How do I know when my property is completely dry?
Proper testing with our specialized equipment is the correct way to determine if things are completely dry. Touch alone may be a false indicator.

Will turning up the heat help dry things out?
Not necessarily. We will adjust the temperature to its optimum setting for the proper drying conditions. Please do not change the setting or shut off the system; doing so may prolong the drying process.

My wood floors are wet and buckling. Will they have to be replaced?
Wood flooring must be evaluated during the drying process. We employ specialized drying systems and dehumidifiers which enable us to create an environment where wood floors can dry more efficiently and resume their original shape. Due to the density of hardwood flooring and urethane finishes, drying may take up to three weeks or longer. If you filed a claim, your insurance adjuster will work with you to make the final decision as to whether floors will need to be refinished or replaced.
What about my wet furniture?
The extent of damage and the construction of the furniture will determine if your furniture can be restored. Your furniture must be dried before damage can be adequately assessed. Non-salvageable furniture will be documented for you and if any items need to be discarded, a customer release form will need to be signed.

Do I need to move out of my property during the water damage restoration process?
If you file an insurance claim, you may receive guidance from your insurance representative. However, this is a decision you must reach on your own. Here are several things to consider. Safety is paramount. Our equipment is as childproof as possible, but we require your supervision for making sure no children play with it. Air movers and dehumidifiers will create some noise and make your property drafty for a few days. It is important that the equipment remains on, so if the noise is disruptive to you, you might want to consider an alternate place to stay.

What is that smell?
It is not unusual to smell odors during the drying process. Increased heat and humidity can also lead to increased odors that may be coming from the drying building materials, or dormant spill and accident areas. Do not confuse these normal odors for the odor of mold. As the drying process continues and humidity levels drop, you will notice these odors disappearing on their own. Deodorizers are often used to minimize these effects as well.

Does everything need to be moved out during restoration?
Not usually. If items need to be moved out, we will let you know in advance.

My ceilings are wet. What needs to be done?
Our technicians will evaluate moisture content, determine the severity of the damage, and may have to remove some of your ceiling for ventilation. Wet insulation can also be a hazard and may need to be removed.

Should I open the windows to help the drying process?
Opening your windows to assist the drying process is not always recommended. Outside weather conditions may vary, so the technicians will determine when and if the outside air is appropriate.

Can I walk on the area during the drying process?
It is strongly suggested that you keep the traffic to a minimum. Wearing shoes is recommended for your safety.
A few reasons your carpet may not be salvageable:
– Delamination (occurs when the backing separates from the carpet fiber)
– Loss of adhesion (may be caused my prolonged exposure to water or age of the carpet)
– Permanent Stains
– Carpet covers wood flooring (to salvage the wood flooring)
– Sewage contamination

Why does my specialty floor need to be removed?
Non-porous flooring can trap water and prevent it from drying properly.

Why did the technician leave wet carpet on my stairs?
Carpet on the stairs is generally not removed for safety reasons. Exposed tack strip or staples, especially on steps is dangerous. However, there are situations where removing carpet from steps is necessary to prevent damage to hardwood steps or in the case of sewage contamination. Removing tack strip is not advised, as this may damage the hardwood or the sub-floor. Extreme caution must be when ever tack strip is exposed or when the carpeted stairs are damp. If carpet left on the stairs is unsalvageable, it will be removed when new carpet is installed.

How will you match my carpet pad?
A sample of your pad is brought to the office for a match. When available, an identical pad will be used. When your original pad is not available, we will provide a pad of the same quality, thickness and density. Similar pad may differ in color based upon the time it was manufactured.

What will you do with my area rugs?
Rugs are taken to our warehouse for special care. They need to be dried carefully to minimize bleeding and colors and discoloration. Your rugs will be dried, cleaned and returned.

Why are air movers and dehumidifiers used?
When water damage has occurred, water can be absorbed into the drywall (sheetrock), baseboards, sub-flooring, etc. Drying these surfaces requires high velocity air movers to accelerate the release of absorbed water into the air. Dehumidifiers are necessary for removing this excess moisture to help protect property and create conditions for efficient drying. Please do not turn off or move drying equipment without first calling RestorationMaster.

Who is responsible for monitoring the drying equipment?
Our water damage restoration specialists will place and monitor equipment to achieve optimal results in the shortest amount of time. Please make sure no one turns the equipment off or moves it. Please notify our office immediately if the power goes off or if the equipment turns off.

What will it cost to run the equipment?
Based on average electrical rates, it may cost about one dollar per day to operate the drying equipment.

What about sewage contamination?
Hard surfaces can be cleaned and sanitized. Affected items that cannot be sanitized require disposal. Porous materials such as drywall, ceiling tiles, insulation, particleboard, paneling, etc. that have been directly affected should be removed during the emergency service visit.
You can find more information on water damage cleanup and restoration cost here.