ServiceMaster DAK
Serving Barrington, Lake County, part of Cook County, IL and the surrounding areas, available 24/7/365
Significant indoor flooding is a nightmare for any homeowner or business owner because it can cause widespread damage to the affected furnishings and structural elements and lead to problems with mold or mildew.  Indoor flooding does not happen just from rain or natural floods, many factors within the home or building such as burst pipes, overflows, and leaks can result in standing water.  The most dangerous aspect about the flooding is that the water will continue to penetrate the building materials and furnishings until it is removed.  ServiceMaster DAK provides flood damage restoration services to extract standing flood water and clean up homes and businesses in Barrington, IL.  Our technicians are equipped to remove standing water and we will get the damaged areas restored to their original condition.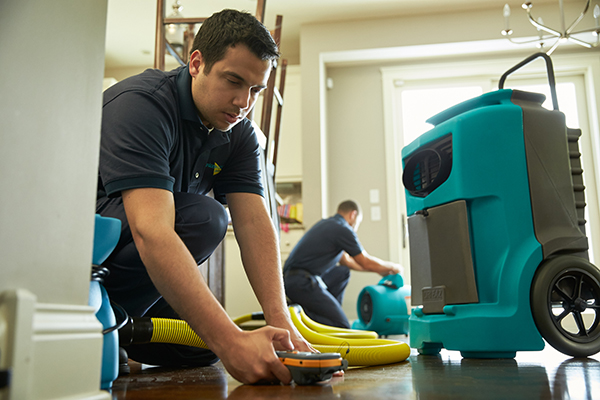 Indoor flooding can have a major impact on your home or building because the water spreads through porous building materials including drywall, insulation, wood, and flooring.  The excess water can cause warping and discoloration of the affected materials and possibly weaken them enough to lead to extensive structural damage.  The other major issue caused by flooding is mold growth as the wet conditions create the ideal environment for mold.
ServiceMaster DAK is committed to restoring homes and businesses faced with extensive flooding and we have the right equipment to remove the flood water and completely dry the affected materials.  Once we extract the standing water, we will dry the affected area with our dehumidification equipment to help reduce the risk of mold growth.
You can expect the following steps with our flood damage restoration services:
Emergency Response: We will dispatch our technicians to your location immediately to contain and assess the damage.
Water Removal and Drying: Our state-of-the-art water extraction equipment can effectively remove flood water and our dehumidification equipment can extract excess moisture from structural elements and furnishings.
Reinstallation and Cleaning: The affected areas will be cleaned and restored and we will also return any furniture or other objects that were moved.
Flooding from Burst Pipes
The cold Chicago weather is one potential source of indoor flooding as the low temperatures can freeze your pipes and cause a pipe burst.  Frozen water gradually expands within the pipe and when it bursts, the leak can flood your home.  Our technicians are ready to respond to burst pipes in the middle of winter by fixing the pipe and removing the water that leaked out.  It is common for pipes to freeze in uninsulated areas of your home so make sure you do what you can to provide warmth to these areas.
All cases of indoor flooding should be treated as emergencies because the structural damage can become extensive if the water is given more time to spread.  You must call ServiceMaster DAK immediately after you discover flooding in your home or business in Barrington, IL to remove the flood water and begin the restoration.  You can reach us any time 24 hours a day at (847) 558-6604 for emergency response to indoor flooding.
---
Flood Cleanup Services in Barrington, Lake county and other IL locations:
Arlington Heights IL 60004 | Barrington IL | Buffalo Grove IL | Lake Zurich IL
---
Review by S.B. – Lake Barrington, IL
Disaster Restoration
Rating

Your people are just wonderful! They were extremely conscientious, professional, and just a joy to be around. The office staff is just as amazing. Too bad all service providers are not this nice to deal with!!!
---
Recent Reviews
January 7, 2020
Very thorough clean up! The men were very professional and competent! They arrived on time for 5 days and were very pleasant and respectful of my home always wearing "booties" when entering. The room was left immaculate and debris removed in plastic bags day 1. The fans were checked daily until the room was dry. Very good service! Recommending Brian Brown and Gabriel who did a great job!
---