Mold is a type of fungi that can grow on any surface, including wood, carpets, drywall, insulation or any other organic substances with a combination of suitable temperatures, moisture, and oxygen. ServiceMaster DAK Enterprises mold remediation specialists are experts at finding and cleaning mold sources and helping to prevent future mold problems.
Mold and Mildew Restoration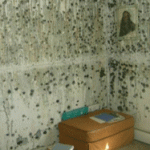 Untreated mold can pose a variety of health risks, including asthma and allergic reactions, and a variety of other respiratory problems. It can also significantly decrease property resale value in the future.  The ServiceMaster DAK Enterprises staff includes IAQA Certified Mold Remediators (CMRs), who will help you handle mold problems by identifying sources of mold, cleaning damaged areas and providing recommendations to avoid future mold growth.
ServiceMaster DAK Enterprises mold remediation services include both removal and treating of any remaining previously moldy structure. ServiceMaster technicians then properly dispose of mold-contaminated materials in sealed bags as part of the mold remediation.  Proper disposal of contaminated materials to prevent releasing mold particles into the air is an important part of mold damage restoration.
For mold remediation and mildew cleanup in Barrington, IL area, call ServiceMaster DAK at (847) 558-6604.
---
Review by S.B. – Lake Barrington, IL
Disaster Restoration
Rating

Your people are just wonderful! They were extremely conscientious, professional, and just a joy to be around. The office staff is just as amazing. Too bad all service providers are not this nice to deal with!!!
---
Recent Reviews
January 7, 2020
Very thorough clean up! The men were very professional and competent! They arrived on time for 5 days and were very pleasant and respectful of my home always wearing "booties" when entering. The room was left immaculate and debris removed in plastic bags day 1. The fans were checked daily until the room was dry. Very good service! Recommending Brian Brown and Gabriel who did a great job!
---