The majority of Americans spend most of their time between their home and work place but these places rarely receive a thorough deep cleaning.  It is beneficial to provide a deep cleaning for the home or office every so often to completely clean these spaces and create a healthier environment.  ServiceMaster DAK Enterprises provides whole house and office deep cleaning services for Barrington, IL.  This is a one-time service in which our technicians thoroughly clean your home or office to your specifications.
ServiceMaster DAK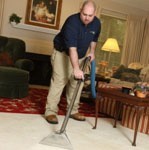 We begin our deep cleaning services by sending an estimator to look over the home or office and determine what needs to be done.  Our customers will each have their own specific priorities and the estimator will take them into account to make sure they are done right.  By sending our estimator to assess the property, we will know what equipment is needed, how many technicians to send to complete the job, and the date and time by which the deep cleaning is to be done.
The technicians of ServiceMaster DAK will arrive at your property with all the cleaning products and equipment needed for the job.  We typically clean from top to bottom, starting at the top of a room and working our way to the floor.  As we work our way down, we clean every feature such as the light fixtures, switch plates, window glass, trims, shelves, and doors.  We also move furniture to clean the areas that are behind and below it.
If your home or office in Barrington is in need of a deep cleaning for a certain event or just because, contact ServiceMaster DAK Enterprises at (847) 558-6604 for our whole house or office deep cleaning services.  We are standing by 24 hours a day to take your call.
---
Review by S.B. – Lake Barrington, IL
Disaster Restoration
Rating

Your people are just wonderful! They were extremely conscientious, professional, and just a joy to be around. The office staff is just as amazing. Too bad all service providers are not this nice to deal with!!!
---
Recent Reviews
January 7, 2020
Very thorough clean up! The men were very professional and competent! They arrived on time for 5 days and were very pleasant and respectful of my home always wearing "booties" when entering. The room was left immaculate and debris removed in plastic bags day 1. The fans were checked daily until the room was dry. Very good service! Recommending Brian Brown and Gabriel who did a great job!
---