ServiceMaster DAK
Serving Barrington, Lake County, part of Cook County, IL and the surrounding areas, available 24/7/365
Much more has been learned about hoarding in recent years and a better understanding of the behaviors behind the disorder has led to better help and cleaning services for those affected.  Hoarding is a disorder that stems from more complex anxiety disorders and the behaviors associated with hoarding can create dangerous and unsanitary living conditions that can threaten the health and safety of those affected and their families.  ServiceMaster DAK provides hoarding cleaning services in Barrington, IL to clean out and restore the homes of hoarders.  We will remove unnecessary hoarded items and clutter as well as thoroughly clean and disinfect the home to restore sanitary living conditions.
People that struggle with hoarding issues tend to collect all types of objects regardless of their actual value and they have an inability to throw anything away which causes the collection of hoarded items to grow.  As the hoard grows bigger, it can seriously compromise the health and safety of those in the home by restricting access, increasing the risk of a fire, and allowing mold and bacteria to grow which can lead to negative health effects.  The dangerous consequences of hoarding make it important for hoarders to clean out their homes but those affected will rarely reach out for help because they are often embarrassed by the condition of their homes.  A person whom the individual can trust such as a close friend or family member must intervene to get the cleaning process started.
Each of our technicians are trained and equipped to handle any hoarding cleanup project as we will remove unnecessary objects and help save valuable items.  After removing all unwanted objects, we will thoroughly clean and sanitize the home and help rearrange what is left.  The hoarding cleaning services we provide include:
Salvaging money, jewelry, and other valuable items
Throwing away unwanted hoarded items
Helping to decide what gets kept, thrown away, recycled, or donated
Distribution of kept items to friends and family members
Assistance with paperwork from attorneys, trusts, and government agencies
Hoarding Cleaning from ServiceMaster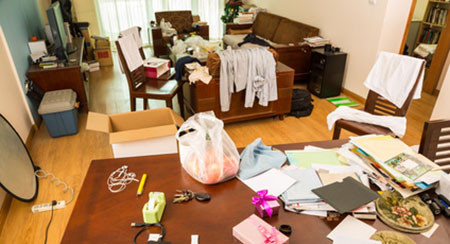 Effective hoarding cleaning services start with building a relationship with the affected individual based on trust and respect and making sure they are included in the entire process.  ServiceMaster Restore in collaboration with host of hoarders Matt Paxton, has developed a new approach to hoarding cleaning projects that emphasizes these principles and ServiceMaster DAK takes this approach to hoarding cleaning to help those in Barrington, IL.  This new approach is divided into these 3 phases:
Phase 1: Building a Personal Connection
We attempt to evaluate the scope of the problem before entering the home.
We establish a personal connection with the individual to earn their trust and respect.
A cleaning plan is created with help from the individual and their family and if further professional help is needed, we can refer a professional counselor.
Phase 2: Implementing the Cleaning Plan
We finalize the cleaning plan with the individual and their family.
Unwanted hoarded items and clutter are removed and we will restore and reorganize the remaining items.
We can help the individual make decisions about whether objects should be thrown away, recycled, donated, or kept while leaving the ultimate decision up to them.
Phase 3: Follow Up
We create a cleaning plan that the individual can follow once the cleaning is complete to maintain their home.
Follow ups are done to see if the individual is following the cleaning plan and if more help is needed, we will return.
We keep the affected individual in control every step of the process.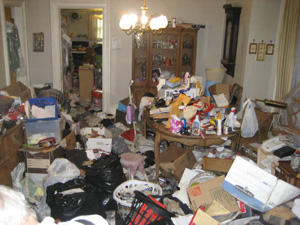 Hoarding should not be taken lightly because the consequences of hoarding can be quite dangerous for those affected and their families.  Those that hoard often need a friend or family member to help them start the cleaning process so contact ServiceMaster DAK if you know someone in Barrington, IL that needs hoarding cleaning services.  Our phone lines are open 24 hours a day at (847) 558-6604 to provide more information about our hoarding cleaning services.
---
Review by S.B. – Lake Barrington, IL
Disaster Restoration
Rating

Your people are just wonderful! They were extremely conscientious, professional, and just a joy to be around. The office staff is just as amazing. Too bad all service providers are not this nice to deal with!!!
---
Hoarding Cleaning Services in Barrington, Lake county and other IL locations:
Arlington Heights IL 60004 | Barrington IL | Buffalo Grove IL | Lake Zurich IL
---
Recent Reviews
January 7, 2020
Very thorough clean up! The men were very professional and competent! They arrived on time for 5 days and were very pleasant and respectful of my home always wearing "booties" when entering. The room was left immaculate and debris removed in plastic bags day 1. The fans were checked daily until the room was dry. Very good service! Recommending Brian Brown and Gabriel who did a great job!
---