ServiceMaster TEAM
Water damage is probably the most common cause of home damage, because it comes from so many sources. Heavy rains can overwhelm the sump pump in the basement. A broken pipe inside a wall can let in hundreds of gallons of water before you even realize there's a problem.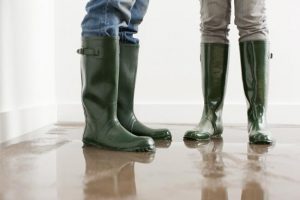 A sewage backup causes problems that nobody wants to think about, let alone clean. Not only does the excess water cause problems, but mold growth begins within days. ServiceMaster TEAM provides high quality water damage restoration and cleanup services 24 hours a day, 7 days a week in Levittown, PA. We arrive quickly to extract water from commercial and residential properties and repair any damage.
Common building materials like wood, drywall, and carpeting absorb water almost as well as a sponge and help spread it further through your home. The more it spreads, the more damage it will cause as materials become wet and fragile. If the area stays wet long enough, mold growth will cause even more damage to building materials. Even worse, mold irritates eyes and lungs, and causes serious problems for people with respiratory issues. The technicians at ServiceMaster TEAM stop the spread of the water first, then extract the excess moisture and dry the area, using the most advanced drying and water extraction equipment in the industry.
Water Damage Restoration in Levittown, PA – Watch Our ServiceMaster Video:
For emergency water damage restoration and sewage cleanup in Levittown, PA, contact ServiceMaster TEAM, 24 hours a day, at (215) 399-4866.
Our comprehensive water damage restoration service includes:
Antimicrobial treatment
Upholstery cleaning
Stain removal
Sewage cleanup
Structural drying
ServiceMaster Sewage Damage Cleanup Services
When there's a sewage backup in your home or business, the last thing you want to do is clean up that mess, and for good reason. Sewage contains dangerous biohazards and should only be handled by experts who have the proper training and equipment. The professionals at ServiceMaster TEAM have all the necessary training, experience and equipment to safely and effectively clean, deodorize and sanitize sewage backups so the area is safe to inhabit again.
Contact us for Water Damage Restoration in Levittown, PA
If your home or business in Levittown, PA has suffered water damage from a flood, sewage backup, or any reason, call ServiceMaster TEAM 24 hours a day, 7 days a week at (215) 399-4866. We'll arrive quickly stop the spread of the water, extract the current water, restore, and repair the damage. Call us today.
---
Related Sewage Cleanup and Water Damage Restoration Services
Water Damage/Sewage Damage Cleanup in Willowgrove and Southampton, PA
Water Damage/Sewage Damage Cleanup in Buckingham and Doylestown, PA
Water Damage Restoration in Montgomery, Bucks County and Northeast Philadelphia, PA
Water Damage Restoration in Warminster, PA
Water Damage Restoration in New Hope and Solebury, PA